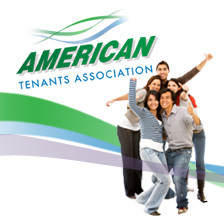 If one of the many recommendations is to repeal or reduce the deduction for mortgage interest then so be it
Scottsdale, AZ (PRWEB) October 28, 2010
The American Tenants Association (http://www.americantenants.org) (ATENA), the country's nationwide voice for 100 million Americans who rent their homes, announced its support today of President Barack Obama's National Commission on Fiscal Responsibility and Reform's proposal to balance the federal budget by 2015.
"If one of the many recommendations is to repeal or reduce the deduction for mortgage interest then so be it", said John Romanin, ATENA's President of Federal Programs and Legislative Affairs. "If the repeal of this tax break is the worse consequence for those still 'above water' on their mortgages we all need to be grateful", he added.
Referring to Monday's address by Federal Reserve Board Chairman Ben Bernanke where he indicated that "the potential number of 'under water' mortgages may soon exceed 50%", Mr. Romanin noted that "it's clear the nation's housing problems are worsening. The impact is multiplied by the cascading impact this will continue to have on the entire economy and the financial sector specifically."
In further commenting on Chairman Bernanke's remarks, Mr. Romanin indicated that "there has never been nor will there ever be a risk model sufficient to mitigate the failure we're experiencing today. At least the Commission is being honest in their recommendations and we commend them for their candor."
Mr. Romanin noted that ATENA will soon release a comprehensive survey and analysis entitled "The Great Un-Leveraged Class" that will re-define the role of residential renters in America. He emphasized the importance of tenants as a "critical source of reliable investment and savings unencumbered by the widespread wealth destruction of the housing depression."
William Deegan, ATENA's Executive Director, added that "as an economic class, tenants have been overlooked, under-represented or misrepresented. Our on-going efforts to coalesce our economic and political power will bring balance to the debate regarding housing policy and the future of America. Tenants expect and demand a seat at the policy discussion table. We will no longer be left out in the cold or tolerate being discriminated against because of our status as renters."
Membership in the American Tenants Association is free and is open to all residential renters and supporters of tenants' rights. Its toll free number is 800-262-3652 and its web address is http://www.americantenants.org.
###