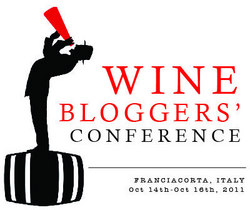 (PRWEB) October 28, 2010
The European Wine Bloggers Conference 2010 has come to a triumphant conclusion. The conference, organised by Ryan and Gabriella Opaz of Catavino.net and Catavino Marketing and Robert McIntosh of The Wine Conversation, brought together in the Austrian capital, Vienna, 200 wine bloggers, social media innovators and wine industry leaders from 30 countries.
"With communication and up to date information the corner stones of the Wines of Chile strategy, our involvement with the EWBC at their most successful conference in Vienna was fundamental. This new community of communicators is dynamic, innovative, and proactive – a perfect fit with Chile, really!" Michael Cox – European Director, Wines of Chile
Attendance at this year's conference was dramatically higher than last year's event in Lisbon, Portugal, reflecting the rapidly growing interest in social media. With this, the annual three day conference has become the leading international conference on wine and the internet - attracting bloggers, the mainstream media, photographers, videographers, distributors, retailers, wine critics and influential wineries to discuss current trends and future innovations in the wine industry.
"Thanks to the EWBC wine bloggers, Naked Wines ordered it's first Austrian wine," said Rowan Gormley, founder of Naked Wines. " We were keen to find a wine that was typically Austrian, made by an independent winemaker and blew the blogger's taste buds off. We got all three!"
Major sponsors of the 2010 EWBC included: the Austrian Wine Marketing Board; Burgundy Business School; Wien Burgenland; WienWein; Wines of Chile; Rona; Vienna Tourism Board; Wine in Moderation; Dinastia Vivanco; Naked Wines, and Traisental-Kamptal-Kremstal; and with additional support from Real Cork. Additionally, over 350 wineries donated over 700 top wines to various tastings held throughout the event.
"We Austrians had so much fun discussing, tasting and having a great time with bloggers" said the Austrian Wine Marketing Board's general manager, Willi Klinger, about the EWBC. I believe we fit very well together.
The blogging scene is very exciting - it's young and it's smart, just like Austrian wine. And I'm sure that the EWBC is as important for the alternative media as it was for Austrian wine."
To learn more about the 2010 EWBC:
Follow the Twitter Hashtag #ewbc
Visit the European Wine Blogger Flickr Group
Search #ewbc in Youtube
Search EWBC or European Wine Bloggers Conferece in Google Blog Search
The 2011 European Wine Blogger Conference will take place in Brescia, Italy, on October 14-16 with the generous support of the Consorzio per la tutela del Franciacorta, which has stewardship of the Franciacorta production, to help raise the profile of this historic, quality wine region with a new group of wine lovers.
The first delegates to register before December 1st 2010 will be entered into a random drawing to win a free trip to the 2011 Conference. Registration is now open!
About European Wine Bloggers Conference
Founded in 2008 by Robert McIntosh of The Wine Conversation (http://wineconversation.com) and Ryan and Gabriella Opaz of Catavino (http://Catavino.net), the annual conference aims to gather from all over Europe and the world wine bloggers who are looking to build stronger relations between their sites and to offer a better route for wineries and retailers to reach these consumers, or readers.
###