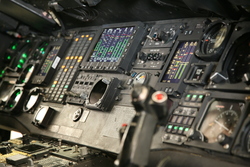 In an environment where requirements are changing, DiSTI's GL Studio allows my Software Development team to be responsive to customer's ongoing changes.
Orlando, FL (PRWEB) October 28, 2010
The DiSTI Corporation announces the utilization of GL Studio's Safety Critical Embedded C++ (SCEC++) in the development of the Howell Instruments' H5900H-60 Advanced Engine Instrumentation (AEI). Howell's AEI system is an innovative and unique engine instrument upgrade for the UH-60A/L Black Hawk helicopter; enabling immediate access to critical flight mission parameters and calculations for flight crews, such as aircraft weight, engine settings, and engine health information in real-time.
GL Studio's SCEC++ was successfully used to design and implement the display interfaces for Howell's AEI. Rather than relying on outdated hand-coding development methods, GL Studio's efficient graphics development tools and rendering technology allow the multiple AEI components to function as a cohesive display unit, increasing pilot efficiency and reaction. The GL Studio Safety Critical runtime library offers the AEI a compact memory footprint and hardware-independent rendering, for ultimate portability during the development phase.
"In an environment where requirements are changing, DiSTI's GL Studio allows my Software Development team to be responsive to customer's ongoing changes," said Mitchell Boeshart, Software Engineering Manager with Howell Instruments. "This has allowed us to meet schedules and exceed customer satisfaction."
The GL Studio SCEC++ runtime library provides an unrivaled solution for portability of high-fidelity interactive 2D and 3D display content. With strict operating system abstraction, efficient rendering capabilities and expandable support to allow use of custom OpenGL shaders; GL studio's SCEC++ runtime libraries deliver an extremely optimized, portable solution for executing digital human machine interfaces.
Howell Instruments' H5900H-60 AEI successfully replaces the original Pilot Display Units (PDU), Central Display Unit (CDU) and Signal Data Converter (SDC) systems with a smart, ruggedized system comprised of an Enhanced Digital Source Collector (EDSC), Multi-Function CDU and Multi-Function PDU. This patented instrumentation solution offers real-time situational, performance and mission management through critical in and out-of-ground power settings, dynamically updated load-carrying capacity and the accommodation of digital map and video from unmanned aerial systems.
"We're thrilled for the opportunity to showcase GL Studio's industry leading design interface capabilities in such advanced and highly technical instrumentation," remarked DiSTI President Joe Swinski. "Coupling Howell's history of outstanding instrumentation with DiSTI's advancements in Safety Critical graphics tools is a recipe for success."
About DiSTI
DiSTI is a global leader in the development of Human Machine Interface software for businesses, governments and the military. The company's flagship product, GL Studio, enables programmers and developers to build high‐fidelity graphics, 3D simulations and fully interactive controls into their models, enhancing the level of realism and sophistication, while improving learning and retention.
More than 400 customers worldwide, including BAE, Boeing, Dassault, FedEx, Lockheed Martin, Honeywell, Raytheon and Thales, use DiSTI solutions to build maintenance trainers, create PC and Internet‐based courseware and to develop components for safety‐critical applications. As a full service provider, DiSTI offers a complement of customer programming and development services, and is the recognized leader in training solutions for the global simulation and training community. For more information, visit http://www.disti.com.
# # #