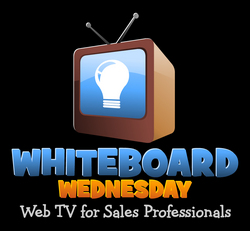 Why shouldn't sales people have their own Web TV Channel? Answer? They should.
(PRWEB) October 29, 2010
Three months ago, Bill Caskey was asked to audition to be the host of a proposed History Channel TV show on selling. He failed the audition. But, from that experience was born Whiteboard Wednesday – Web TV For Salespeople (http://www.whiteboardwednesday.tv).
"After that audition, I read an article in the Wall Street Journal that said we're in a 'zero growth economy.' It's the dilemma of most sales organizations: How do you set higher and higher goals in an economy that isn't growing? That caused me to ask, why aren't we using social media to distribute content that will actually help people grow their business?"
Caskey is president of Caskey Achievement Strategies, an Indianapolis sales training and leadership coaching company (http://www.caskeyone.com). He feels like most companies under-use electronic media to train their sales teams.
He already has experience in social media content production.
Caskey and business partner Bryan Neale have hosted The Advanced Selling Podcast (http://www.advancedsellingpodcast.com) for three years and know how important it is for sales people to plug in to good content. "We've had over 1,000,000 downloads and we get emails all the time from our listeners telling stories about how our teaching has affected them. So we wanted to do the same thing with Whiteboard Wednesday."
"Business is tough in this market. Customers are demanding. Prospecting is hard work. Objections are harder to handle than ever. Every customer wants a lower price. And sales organizations aren't bringing their teams together as often as they once did to talk about solutions to these problems. And that's why WBW was created – to give people skills, strategies and tactics to grow their businesses."
Whiteboard Wednesday is a free, fast paced, 7-10 minute educational programming for sales people world wide. Its main goal is to help viewers change their mindset about how to pursue new business. Hosts for the show are Bill Caskey, Bryan Neale and Brooke Green. The bi-weekly show features segments on Q&A from viewers, examples of sales approaches that work, and communication tips for presenting solutions to clients.
It's targeted to the 35,000,000 sales and customer service agents who rely on their sales skills to succeed in business. This also goes for sales managers who are constantly looking for sales meeting content. "Sales managers should subscribe every one of their people to Whiteboard Wednesday and use the topics from each show as content for periodic sales meetings."
Caskey says, "I anticipate Whiteboard Wednesday will be a way to connect with people all over the world. Podcasting has been a great lead generator for our company. I'm working right now with a Canadian technology company who listened to our podcast for two years…and finally called us. In the last two years, nearly all of our new training business has come from podcast listeners."
You can subscribe at iTunes or at http://www.whiteboardwednesday.tv. Or subscribe through http://www.youtube.com/user/whiteboardwednesday.
# # #