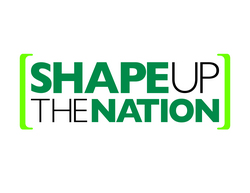 Providence, RI (PRWEB) October 28, 2010
Shape Up The Nation, the innovative provider of social networking-based online corporate wellness services, today announced the launch of a fun social gaming challenge designed to help participants maintain their body weight during the holiday season. Called "Fit 'n' Festive," this wellness challenge encourages balance between fitness activities and festive, but often unhealthy, holiday habits.
A New England Journal of Medicine study found that the average adult American gains one pound of weight during the short holiday season and never loses it. The pounds quickly add up, as do the associated health problems and financial costs. Ongoing weight gain during adulthood has serious health consequences and is a risk factor for the development of type 2 diabetes, cardiovascular disease, and other weight-related co-morbidities.
"The holidays are a tough time for everyone," said Mike Zani, chief executive officer of Shape Up The Nation. "Time commitments and stress rise dramatically, and unhealthy food and drinks that are readily available often become an easy but unwise source of comfort."
To combat nationwide holiday weight gain, Shape Up The Nation designed its Fit 'n' Festive challenge to encourage mindfulness during the holiday season. Participating employers will encourage their employees to team up using Shape Up The Nation's online social wellness platform, where they can track their actions, engage in friendly competition, and motivate each other to pursue a healthy holiday season.
"We developed this initiative to encourage awareness of what we consume during the holidays and to help participants balance that with healthy activities like exercise and relaxation," said Rajiv Kumar, Shape Up The Nation's founder and chief clinical officer. "Our goal is to empower people to harness motivation and accountability from their trusted social network so they can survive holiday temptations and emerge in the new year healthier than before."
Employers interested in offering Shape Up The Nation's Fit 'n' Festive wellness challenge to their employees can visit http://www.shapeupthenation.com/fnf to learn more.
About Shape Up The Nation
Shape Up The Nation is the first corporate wellness company focused on leveraging the power of trusted social networks to promote healthy living. Founded in 2006, Shape Up The Nation has pioneered an innovative approach to behavior change that uses social networking to reduce health care costs by improving the health of large populations through peer motivation, support, and accountability. Shape Up The Nation's evidence-based online wellness platform is used by more than 120 leading self-insured employers and health plans. For more information, visit http://www.shapeupthenation.com/.
# # #