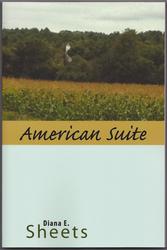 You will find a special treat in American Suite. . . . It is what used to be called a comedy of manners and it is a subtle send-up of what is now called
Champaign, IL (Vocus) October 28, 2010
Welcome to the U.S. of A. To your left and right are the coasts, filled with various ethnicities and tall buildings into which terrorists sometimes fly airplanes. In the middle—as we learn in American Suite (Jorge Pinto Books, trade paper, $19.95), Diana Sheets's mordantly funny new dissection of American sensibilities —is the Flatlands, where nobody has an attitude and dressing in black is only for funerals.
The story of how a dyed-in-the-wool single New Yorker adapts to life in the land of "Overly Friendly People" makes for a wickedly sharp comedy of manners. Along the way, however, Sheets, whose reputation for smart, sometimes controversial literary criticism and political commentary continues to grow since the publication of her novel The Cusp of Dreams, treats us to one of the most insightful and enjoyable satires of contemporary American culture you're likely to come across.
American Suite tells its richly unfolding story via the diary entries of three formidable women—Rosalyn Selby, her elder daughter Sophie, and her younger daughter Arisa. Arisa has left Manhattan in the wake of 9/11 for a more civilized life on the prairie. Rosalyn, a Manhattan widow convinced that she's Jewish, thinks Arisa is meshugana. Sophie has her own problems, trying to maintain her picture-perfect family in the Connecticut suburbs. Sheets, a writer with an anthropologist's eye and a playful appreciation of words, brings this family vividly to life.
Diana Sheets isn't exactly a fan of chick lit and the feminization of American culture. Part of American Suite's immense charm is the artful way it parodies the conventions of chick lit while still allowing readers the pleasure of immersion in a sexy, romantic, page-turner about a woman searching for herself and her sanity in the civility of America's Heartland.
American Suite, a novel by Diana E. Sheets
Publisher: Jorge Pinto Books, New York, NY
ISBN: 978-1-934978-33-7, trade paper, $19.95; 273 pp.
"You will find a special treat in American Suite. . . . It is what used to be called a comedy of manners and it is a subtle send-up of what is now called "chick-lit." Wickedly funny . . . as the author takes a look at life today." — Bookviews
"Diana Sheets is unafraid of taking on the sacred cows of 'chick lit' in a sweeping family saga that offers up sexy men, violent and treacherous romance, dull marriage, soulful union and resourceful women. . . . Religious and spiritual confusions vie for attention with family loyalties and geographic rootedness as a New Yorker moves to the Midwest in search of a good-enough life." — Jerry Sander, author, Unlimited Calling (Certain Restrictions Apply)
For more information, visit http://www.literarygulag.com
Media contact: Victor Gulotta, Gulotta Communications, Inc.
617-630-9286, victor(at)booktours(dot)com
http://www.booktours.com
About the Author
Diana E. Sheets, PhD, has a Research Scholar appointment in the English and History Departments at the University of Illinois. Prior to moving to Illinois to write fiction, political commentary, and literary criticism, she worked in sales and sales management in the metropolitan New York. She is the author of a previous novel, The Cusp of Dreams.
###