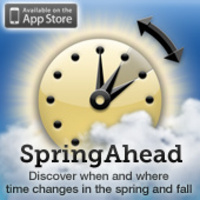 A miniature museum exhibit about Daylight Saving Time in a pint-sized app.
Rockville, MD (PRWEB) October 31, 2010
With the November 7 time change in the U.S. just around the corner, the nonprofit Institute for Dynamic Educational Advancement (IDEA) has released Spring Ahead & Fall Back (http://go.idea.org/SpringAhead), an app that enables users to discover when and where people around the world observe Daylight Saving Time (DST) and Summer Time, and when users should switch their clocks. According to Product Manager Michael Douma, the app also includes a wealth of information about DST. "It's a miniature museum exhibit in a pint-sized app," he said.
Using the app, users twirl a 3D globe, zoom in with a pinch, and tap on a country. Or they can type in a country name. They're transported to that location and learn whether or not that country observes Daylight Saving Time, and if so, what date and time it will start or end during any given year. The app runs on the iPhone, iPad, and iPod Touch, and costs $1.99 in the U.S., with comparable prices worldwide.
iPhone users can easily set calendar alerts for a given country, choosing from among the next time change only, the changes this year, or the next decade of time changes. Best of all, iPhone and iPad users can remind others to spring ahead or fall back, thanks to the app's full integration with email, Facebook, and Twitter.
"The 3D globe is a fun and intuitive way to choose different countries, and illustrates why Daylight Saving tends to be observed in temperate and polar regions, but not in the tropics," said Douma. "In addition to must-have information about places, dates, and times, users can explore the rationale behind Daylight Saving Time, its history, and its unintended consequences." The educational content in the app is adapted from a popular exhibit in IDEA's WebExhibits.org online museum about Daylight Saving Time (http://www.webexhibits.org/daylightsaving/).
IDEA's most recent research and development focus has been creating apps for multi-touch devices. Spring Ahead & Fall Back is the organization's first app.
Direct link to the iTunes app store: http://go.idea.org/sa-itunes
About IDEA:
The Institute for Dynamic Educational Advancement (IDEA) is the place where fresh concepts germinate, grow, and flourish. IDEA works to enhance scientific, artistic, and cultural literacy by improving how people find and interact with online information. IDEA is an innovator in identifying, developing, and advocating on behalf of approaches and technologies that assist people in exchanging meaningful information that leads to greater understanding of the world in which we all live.
For more information, contact:
Michael Douma, Product manager
michaeld(at)idea(dot)org
http://go.idea.org/SpringAhead
###