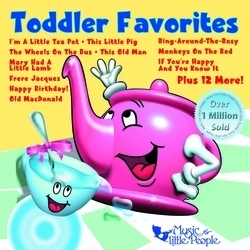 When I see my 18 month old bop up and down to the songs from my childhood I put down the Blackberry and let go of my day
Corte Madera, CA (Vocus) October 5, 2010
While many companies scramble to deliver what they hope will be at the top of every child's holiday wish list, Bay Area based Music for Little People unwraps award-winning, multi-cultural songs and instruments with a mission to enlighten children about music from around the world. Founded by Leib Ostrow, Music for Little People inspires music appreciation in young children by connecting kids to legendary artists whose musical roots celebrate diversity. The company marks its 25th year by offering music that engages and delights, while educating children with CDs including:
World Travels: World Music for Kids (Various Artists) - Features classic tunes from South Africa, Italy, Ireland, Ghana, Jamaica, Mexico and more, and sung by legendary Grammy® award-winning artists including: Ladysmith Black Mambazo, Buckwheat Zydeco, Native American singer Bill Miller, renowned blues artist Taj Majal, Cedella Marley Booker, and Between the Lions Music and Movement specialist, Aaron Nigel Smith. $13.98
Buckwheat Zydeco's Bayou Boogie (Buckwheat Zydeco) - The Grammy® award-winning ambassador of Zydeco music infuses family-friendly classic rock tunes with a little bit of Creole to create a dance-party collection for the entire family. Bayou Boogie features instruments including the rub board, accordions, Hammond B3 organ, and guitars. Special guest artists include Laurie Berkner, Dan Zanes, Aaron Nigel Smith and Maria Muldaur. $14.98
Barnyard Dance: Jug Band Music for Kids (Maria Muldaur) - Maria Muldaur connects children to American culture and history by delivering lighthearted and spirited tunes using homemade instruments like washboards, tubs, cowbells, spoons, pots and pans. It's a true example of reuse and recycle, and encourages children to make their own music using found objects from around the house. $13.98
Parents will remember their own childhood on Singin' & Groovin', a compilation of 25 children's classics from the company's award-winning platinum-selling Toddler Favorites series. The entertaining styles range from rock 'n' roll and blues to hip hop, folk, and country. Singin & Groovin' features professional singers as well as young children.
"When I see my 18 month old bop up and down to the songs from my childhood I put down the Blackberry and let go of my day," says working mom Kimberly Antonini. "Our favorite for bedtime now is "This Little Light of Mine,'" she adds.
For parents interested in introducing their children to instruments from around the world, Music for Little People offers shapes and sizes appropriate for young children through its award-winning BeBop™ line. Choose from toddler- and child-size guitars in bright colors as well as soprano ukuleles, violins, accordions, lightweight Calypso steel drums and more. The BeBop instruments are designed by music educators and musicians specifically with children in mind. Additional products include child's-size CD players, MP3 players and Kidz-Safe volume control headphones.
"Music connects people no matter your age, the language you speak, your culture, or spiritual beliefs," says founder Leib Ostrow. "I've been fortunate to work with artists from Willie Nelson and Loreena McKennitt to Ladysmith Black Mambazo and Faith Hill; everyone welcomes the opportunity to educate while entertaining children through music and I especially like inspiring them to create their own. I feel honored to have been able to make this my life's work."
To learn more about Music for Little People or to request a catalog, please visit http://www.musicforlittlepeople.com or call 1-800-409-2457.
Music for Little People™ is an imprint of Palm Publishing, LLC, headquartered in Norwalk, CT. Soundprints™ and Studio Mouse® are also imprints of Palm Publishing, publishers of high quality children's books, electronic books, audiobooks and plush toys. To learn more about these products, visit http://www.Soundprints.com.
###