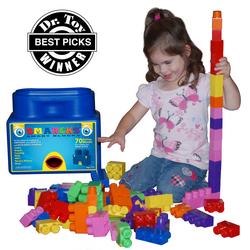 Over the past 3 years we've spent countless hours perfecting this educational toy for optimal learning, playability, and of course, fun!
Vista, Calif. (PRWEB) November 2, 2010
Smart Blocks Inc. announces the release of its new microprocessor-controlled building blocks for children – Smarcks Smart Blocks. The interlocking plastic blocks talk and sing instructing children on a variety of subjects as they build.
"Building blocks have always been one of the best developmental toys for children, but there are limits to what standard blocks can do," said Scott Seligman, mechanical engineer and creator of Smart Blocks Inc. "Our new Smarcks Smart Blocks expand these limits to challenge kids and further their learning in a fun way."
Smart Blocks teach children about colors, counting, spelling, math, music, nursery rhymes, puzzle solving, and good manners. The blocks are divided into six sets advancing in skill for children ages 1 to 5. The blocks also recognize and incorporate their stacking order into the lessons they teach.
Seligman was inspired while watching his own children play to evolve standard children's building blocks to provide more stimulation. He created Smart Blocks Inc., which proceeded to develop the talking building blocks. Three years of development and research involved working with California companies to optimize the electronics and achieve clear sound quality.
Dr. Toy, Stevanne Auerbach, PhD, an educator and expert on child development and children's products, selected Smarcks Smart Blocks as one of her [ 2010 Best Picks for new children's toys. The talking blocks also received a Parents Choice Award in fall 2010 from the Parents' Choice Foundation, the nation's oldest nonprofit guide to children's media and toys.
For more information on Smarcks Smart Blocks, please visit http://www.talkingbuildingblocks.com/.
Smart Blocks Inc. is a U.S. owned and operated family business founded in 2007. Scott Seligman, inventor and CEO of Smart Blocks Inc., is a mechanical engineer and comes from a family of educators which have 50 years of experience in the field of education and child development.
Media Contact:
Smart Blocks, Inc.
3231C Business Park Drive #103
Vista, CA 92081
# # #