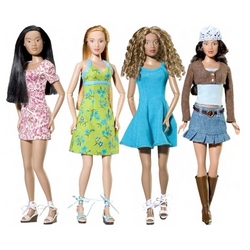 "this beautiful line of multi-racial dolls better reflect the reality of a growing number of children sharing two or more distinct racial backgrounds" - Debbie Goodland, president and founder MIXIS™
New York, NY (PRWEB) November 18, 2010
Mixis™ New Generation of Limited Edition Collectible Play Dolls and culturally inspired outfits were created to represent a fusion of races, ethnicities and cultures, in hopes of encouraging dialogue about race. Just in time for the holidays MIXIS™ dolls and accessories are guaranteed to be the season's best gift idea for a new generation of multi racial kids and savvy doll collectors. Regardless of how well one teaches their children about the importance of family, friends, and giving during the holidays, any kid will say: "It's about the perfect gift." Kids in general can be difficult to buy for - it is our mission to find gifts that challenge their minds, develop hobbies, and spur their imaginations, but that's not always easy to do.
Multiracials have become the fastest growing demographic group, wielding an impact on minority growth that challenges traditional notions of race. For the first time, Americans were able to check more than one box to identify their race on the new census forms. This new multi racial awareness sets the perfect stage for MIXIS™. Created by Debbie Goodland, the Mixis™ Limited Edition Collectible Play Dolls and culturally inspired garments were created to represent a kaleidoscope of races, ethnicities and cultures, in hopes of encouraging dialogue about race amongst the younger generations. Mixis™ mixed race collectible play dolls have been delicately designed with varying skin tones, realistically painted eyes, facial characteristics that reflect two or more ethnicites, and a naturally proportioned body. MIXIS dolls are available in two editions: First Edition ($59.99) dressed with high quality couture styled outfits that include finely stitched denim skirts, espadrilles, casual dresses, and chic accessories that reach for a level of detail beyond the norm and the Sunshine Collection ($49.99) - all dolls include certificate of authenticity and are of an exclusive numbered limited edition series.
Promising to fill a void in today's doll market, MIXIS™ multi-racial dolls deliver a product that today' s population can relate to. "We surveyed children and quickly discovered what was missing in today's doll. The children said they wanted 'a doll that looks like me,' one that they could better relate to," said Debbie Goodland, YNU Group (parent company of MIXIS™ ) president and founder. For the holidays, their dreams can now come true. "We were more than happy to oblige by developing this beautiful line of multi-racial dolls that better reflect the reality of a growing number of children sharing two or more distinct racial backgrounds" adds Goodland.
Demographers attributed the recent population growth to more social acceptance and slowing immigration. They cited in particular the high public profiles of Kimora Lee Simmons, Halle Berry, Leona Lewis, Nicole Scherzinger, Sade, Lenny Kravitz, The Rock, Tiger Woods, Demi Lovato, Hines Ward, Apollo Anton Ohno, Mariah Carey, Salma Hayek, Shakira and President Barack Obama, a self-described "mutt," who are having an effect on those who might self-identify as multiracial."
The MIXIS™ line currently features four beautiful dolls: Houda Degas, who is French, Lebanese, and described as "adventurous"; Rosa Dominguez Katz, who is Latina and Jewish and known as "a bookworm who likes to dance"; Emerald Okada, who is Black American, Native American, and Japanese -friends describe her as "energetic and passionate"; and, finally, Opal Nkrumah, who is Ghanaian/British - raised in the UK, and described as "down-to-earth but adventurous". Mixis also encourages the consumer to think outside the box and write their own stories by purchasing the doll that best resembles their mix, regardless of what it is identified as!
YNU Group Inc. was established in 2005 to create premium products for a rapidly growing multi-racial, multi-ethnic and diverse youth market. Designed to encourage dialogue so we can move beyond color for a more just and peaceful world that respects difference and their common global connection. Additionally, YNU Group has created an active forum for communication among mixed race adults and their families in the Facebook community known as MIXISLIVING.
Mixis dolls are available for purchase at selected specialty retailers in the US, Canada and The Caribbean. USA and International Residents can purchase MIXIS products on http://www.mixis.com - Canadian residents can visit http://www.theshoppingchannel.com/endeca/search.do?keyword=mixis&Search.x=37&Search.y=10
For more information, photos, or product samples for YNU Group, MIXIS or Debbie Goodland (company founder) , please contact Paulette Cleghorn at DLPR on 212-594-9480 or by email on pcleghorn(at)dlprusa(dot)com
###