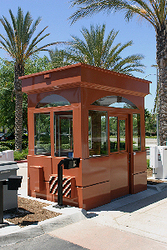 South El Monte, CA (PRWEB) November 3, 2010
Super Typhoon Paka moved through Guam and the Marshall Islands during mid-December of 1997, flattening wooden structures and damaging property, but not damaging steel booths manufactured by B.I.G. Enterprises (http://www.bigbooth.com), a California-based prefab booth builder. Though the booths stood directly in the pathway of Super Typhoon Paka. Both booths, including their glass windows, were still intact after the super typhoon passed over.
A typhoon watch was issued by the NWSFO, Guam, at 2300 UTC 14 December for the Marshall Islands when Paka was over 1200 km east-southeast of Guam. During its closest approach to Guam, the typhoon intensified to 230 MPH. The eye of the storm moved west-northwest, passing through the Rota channel and across the northern section of the island near Andersen Air Force Base. The typhoon force winds lasted for more than 8 hours on some populated parts of the island. This long period of sustained high winds, along with wind direction shifts, likely contributed to much of the damage to buildings and property.
Although the typhoon resulted in no reported fatalities, on Guam the 230 MPH winds--the highest known winds to ever hit Guam--destroyed about 1,500 buildings and damaged 10,000 others. Additionally, major damage was reported in an estimated 30–40% of public buildings. Reinforced concrete buildings held up well, but light metal-frame structures and wooden structures more often were completely destroyed.
With this sort of compelling result in favor of its prefabricated construction, B.I.G. Enterprises announces the Anti-Typhoon Guard Shelter, inspired by the two booths that survived Super Typhoon Paka in 1997.
More Information about B.I.G. Enterprises:
For over 45 years, B.I.G. Enterprises, Inc. of South El Monte, CA has engineered and manufactured high quality prefabricated booths for the security and parking industry. Their large selection of preassembled buildings includes guardhouses, cashier booths, portable buildings, bus shelters and a variety of custom made kiosks.
Utilizing a proprietary "Critical Span" manufacturing technique that increases convenience and strength in prefabricated structures, the B.I.G. team has booths protecting our nation's capital, nuclear power plants, international airports, colleges, universities and corporate offices.
Contact Information:
Dave King
B.I.G. Enterprises, Inc.
9702 East Rush Street
South El Monte, CA 91733-
Toll Free: 800.669.1449
###