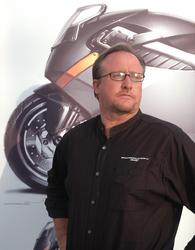 "I'm excited to be part of the Stealth advisory team," says Brady. "They are constantly pushing the limits and redefining what electric 4x4 vehicles can be."
Sarasota, FL (PRWEB) November 1, 2010
ROBRADY design, a vanguard of innovative and ecologically responsible design solutions for over two decades, has a portfolio that covers multiple industries and a client base that covers the globe. As the company continues to grow, so does its active and demonstrable commitment to sustainable, green design solutions.
In October, CEO Robert Brady accepted a seat on the board of advisors for Stealth Electric 4x4 Vehicles. Stealth, an Atlanta-based company, produces utility vehicles such as the Commander and the 64-volt Apache which are geared for the outdoor enthusiasts from hunters to golfers. "I'm excited to be part of the Stealth advisory team," says Brady. "They are constantly pushing the limits and redefining what electric 4x4 vehicles can be."
On the corporate level, ROBRADY design received certification from the Green Business Partnership (GBP) in July. The GBP was initiated through a grant from the Florida Department of Environmental Protection to Sarasota County and has over 125 local members. Certification from the partnership recognizes those companies, business organizations and local governments that literally make environmental responsibility part of their business.
And ROBRADY's dedication to sustainable design continues to garner acclaim in the U.S. and abroad. Last month, the studio won both a Design Award of the Federal Republic of Germany and a Green GOOD DESIGN™ Award for its work on the innovative db0 electric folding bicycle.
The Design Award of the Federal Republic of Germany is particularly distinctive because it is conferred only on products that have already proven their marketplace excellence by having won previous awards. More than just a high honor, the award provides recipients a means for demonstrating long-term success of their designs and brands.
Similarly, the Green GOOD DESIGN™ award, a specialized edition of the GOOD DESIGN™ program, emphasizes the importance of sustainable design and promotes international awareness of those companies doing the best job in sustainable design for the environment.
ROBRADY design is a multi-disciplined product design and development studio that offers its multinational client base— including General Electric, Mercedes-Benz, Dell Computers, Segway, AT&T, Merial, Vectrix and Yamaha—progressive industrial design, mechanical design and engineering, graphics /packaging / GUI / web and eCommerce design, market research, brand and retail development, complete rapid prototyping and production program management. ROBRADY design stresses comprehensive speed-to-market product solutions by collaborating to identify the greatest areas of opportunity and producing innovative designs to deliver profitable product solutions. ROBRADY delivers design, production and capital solutions to their clients in support of their research to reality philosophy.
# # #