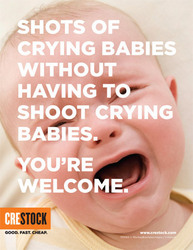 We chose a tagline that cuts to the chase and communicates exactly what customers want from us.
(PRWEB) November 3, 2010
One of the fastest growing stock image sites on the Web has been relaunched with a bold new look—and a message to match.
Crestock, founded in Norway in 2005, was recently purchased by Masterfile, a premium stock photo agency with global reach, headquartered in Toronto.
Crestock.com has been relaunched with new graphics and a bold new logo, including the tagline "Good. Fast. Cheap."
"Crestock is part of the next wave of stock sites," says Joan Fischer, President. "Our new look is part of our efforts to position Crestock as the clear alternative to sites like iStockPhoto. We chose a tagline that cuts to the chase and communicates exactly what customers want from us."
Fischer added that Crestock is being introduced to a broad audience of users looking for the most affordable stock images. whereas Masterfile caters to advertising and design professionals looking for premium image selection, exclusivity and high touch service and support.
The campaign, developed by Toronto-based agency Rethink, includes a series of bold web banners, as well as print ads. "The tone is cheeky and blunt," says Dre Labre, Creative Director at Rethink. "Many stock sites are bland and conservative—we want to be seen as the no b.s. choice."
Although Crestock serves a global audience, the focus of the new advertising campaign will be in North America initially. The campaign launched on November 1, and will introduce new ads on a continuing basis.
About Crestock Corporation
Crestock is a growing player in micropayment royalty-free stock photography and illustrations, helping clients with small budgets find creative images for their projects. With a fast and reliable image upload system, Crestock also gives photographers and illustrators a great platform for licensing their creative work. Crestock is a global business, with artists, editors and clients in over 100 countries. It is a wholly-owned subsidiary of Masterfile Corporation.
To see a selection of Crestock's new banner ads, please visit: http://www.crestock.com/media/downloads.aspx
For further information, please contact:
Joan Fischer, President
Crestock Corporation, Toronto
+1 416-929-5552
Dre Labre, Creative Director
Rethink Communications, Toronto
+1 416-858-6963
###