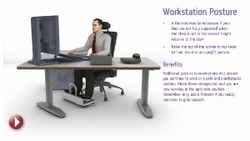 (PRWeb UK) November 9, 2010
Health and wellness leader Posture Group today launches the latest version of its online DSE workstation assessment training and self assessment software for single users, home users or small companies with up to 50 employees.
Single users or home office users can register their details, pay for the system by credit card and complete the training and workstation assessment questionnaire there and then with a detailed assessment report and summary provided on completion of the assessment.
Small companies with up to 50 employees can register their details, pay for the system and then completely customise the system to their requirements before automatically launching the system for all employees. Companies can login into an administration system to view all the completed workstation assessments and any outstanding issues or risks that require attention to improve health and wellness.
More than 5,000 single users and 3,000 businesses with multiple users have used Posture Group's online DSE workstation assessment system to train themselves and assess their workstations, or the workstations of their staff.
workstationassessments.co.uk has been developed by Posture Group who provide in excess of 120,000 face to face DSE workstation assessments annually via our team of 250+ ergonomics, physiotherapy, health and wellness and safety consultants UK-wide. Our consultants have developed the online workstation assessment system to streamline what they do face to face and the system provides a comprehensive workstation setup and posture training animated video combined with a follow on detailed workstation self assessment questionnaire and report with the findings and recommendations on completion.
Online workstation assessments cost £10 per license for a single license or up to 20 licenses and £8 per license for 21 to 50 licenses. The cost of a face to face workstation assessment is about £60 - £80 for a single assessment and about £36 - £40 per assessment for multiple assessments, so the cost saving to you is about 80% for a single assessment and 85% for multiple assessments.
The online DSE workstation assessment system will ensure that home workers and small offices comply with the Health and Safety Display Screen Equipment regulations 1992 and the system is automatically updated with any changes to the regulations. The regulations seek to protect the health and wellness of any worker, home or office based, by reducing risks from VDU or computer work.
Contact:
Tel: 0845 345 3172
Email: Rodney(dot)epstein(at)posturegroup(dot)co(dot)uk
Web: http://www.workstationassessments.co.uk
# # #