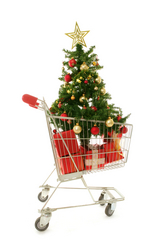 "Our members are very encouraged by these early sales figures that are higher than last season by double-digits," said Jami Warner, Executive Director, American Christmas Tree Association.
Los Angeles, CA (PRWEB) November 1, 2010
Despite the still shaky state of the economy, consumers are not cutting back on important family purchases, including Christmas trees, according to the American Christmas Tree Association (ACTA).
"Based on early season sales figures, our members are reporting significantly higher growth in the artificial Christmas tree sector than last year at this time," said Jami Warner, Executive director of ACTA.
"While we don't yet have sales figures for real trees because they are not yet available in retail locations, based on the information we have right now we believe that the Christmas tree industry in general will see a significant boost in sales this season," Warner said.
The National Retail Federation recently predicted that Christmas sales overall will show improvement this year over last year. According to the National Retail Federation, consumers are showing they are once again willing to spend on what's important to them, but will still be conscientious about price.
"Our members are very encouraged by these early sales figures that are higher than last season by double-digits," said Warner. "Because Christmas trees are available in every conceivable size, shape, color and price point, consumers will not have to sacrifice the wonderful 500-year-old tradition of celebrating Christmas with a Christmas tree, even in this uncertain economy."
About ACTA: The American Christmas Tree Association is a non-profit organization dedicated to providing the most current and factual data to help consumers make well-educated decisions about Christmas trees. For more information, please visit American Christmas Tree Association http://www.christmastreeassociation.org Christmas tree association http://www.christmastreeassociation.org Christmas tree facts http://www.christmastreeassociation.org/truth-about-christmas-trees
###