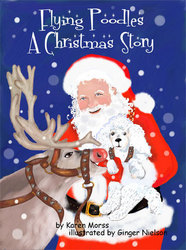 Redwood City, CA (PRWEB) November 5, 2010
A new Christmas classic has been released just in time for the holidays, written by Karen Morss and illustrated by Ginger Nielson. An emergency, a rescue, an adventure and the most adorable cast of characters to meet Christmas in ages, Flying Poodles is sure to become one of your family's favorite holiday traditions. Now available as a 32-page hardcover book and an iPad/iPhone App in the iTunes store.
Inspired by the Standard Poodles that ran the Alaskan Iditarod from 1988-1991, Karen Morss has created a magical new story for the holidays. A pilot, an artist and an orchardess, this is her first children's book. Ginger Nielson is a full time children's book illustrator who has a magic wand on her desk and a dragon in her basement. A portion of the proceeds from the book and the app will be donated to Smile Train – Saving the World one Smile at a time.
Karen Morss Poodle Dog Productions KarenMorss(at)Gmail(dot)com
http://www.Flying-Poodles.com
Flying Poodles - A Christmas Story]
http://www.Flying-Poodles.com
650.363.31600
Ginger Nielson http://www.gingernielson.com
App developed by Red Bird Studios http://www.Red-bird-studios.com
###