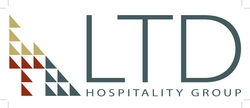 Chesapeake, VA (PRWEB) November 1, 2010
LTD Hospitality Group (a limited liability company formerly trading as LTD Management Co., LLC), a leading hospitality company, today announced the launch of its new corporate name, logo, and website. LTD's new name, LTD Hospitality Group, signifies the company's hospitality breadth and expertise, and the logo incorporates key design elements that reflect LTD's core values.
"For the better part of my twelve year career at LTD, I have looked forward to this refreshed look and identity for our company. The new logo retains the 'LTD' moniker, which has a rich reputation in the industry and communities in which we do business, but it also clarifies that we are an all encompassing hospitality group with many capabilities including development, third party management, construction management, asset management, and general advisory work," said Kimberly Schlick, Vice President of Sales and Marketing for LTD Hospitality Group.
"Although the new name and logo better define our identity, the company's values – our people are our strength, relationships are our foundation, and we look for opportunities – that have been ingrained since inception remain the same," said Malay Thakkar, Managing Principal, LTD Hospitality Group.
The new corporate name and logo follow the company's recent expansion to northern Virginia, Maryland, and Illinois. LTD Hospitality Group's portfolio of hotels across five major brands (Hilton Worldwide, Hyatt, Intercontinental Hotels Group, Marriott International, and Starwood Hotels and Resorts) comprises more than 4,000 hotel rooms in 3 states around the mid-Atlantic and mid-West United States. These changes have also been mirrored by the internal launch of a refreshed company vision, mission, and values and key strategic priorities, which are intended to communicate more clearly how LTD conducts business and plans to achieve company goals.
"These are exciting times in the rich twenty-seven year history of our company. Coming off of the largest growth period in our company's existence and out of the recent economic storm that has rocked the global economy, we're excited to launch our corporate identity that better represents who we are today and our aspirations for the company going forward as we look to own the upswing in the marketplace," said Neel Desai, Managing Principal, LTD Hospitality Group.
Logo Design Details
With the replacement of the word "management" with "hospitality group," the new logo highlights LTD's vast capabilities including development, construction, consulting, and management within the Hospitality Industry. The platinum and gold evoke quality, energy, and power. The copper tone represents high conductivity and durability. The singular triangle made up of smaller triangles is reflective of: several moving pieces coming together in harmony, working together to achieve one shared vision for success. The three letters "L," "T," and "D," are visible within the triangle logo, and they represent the last names of the three founding families – Lavingia, Thakkar, and Desai. The Lavingia family left the company more than twenty years ago, but the Desai and Thakkar families kept the "LTD" name because of the stature gained over time.
"The new corporate branding enable our growth by communicating our values to an ever growing associate base across the nation. Our associates' common connections and purpose are now clearly symbolized." said Dilip Desai and Hari Thakkar, Co-founders of LTD Hospitality Group.
About LTD Hospitality Group
LTD Hospitality Group is a limited liability company and a premier hotel development and management company headquartered in Chesapeake, VA. Since its inception in 1983, LTD has developed a strong reputation for being a recognized leader in building and operating award-winning hotels. The Company currently owns and operates more than 4,000 rooms in several properties in the Mid-Atlantic, Southeast, and Mid-West. LTD has been ranked in the Top 100 Management Companies by Hotel Business. With the highest possible standards in mind, LTD prides itself with developing and managing quality hotels under the franchise brands of Hilton Worldwide, Hyatt Hotels and Resorts, InterContinental Hotels Group, Marriott International, and Starwood Hotels and Resorts. For more information, please visit http://www.ltdhospitality.com.
Contact:
Kimberly Schlick
(757) 213-0110
kschlick(at)ltdhospitality(dot)com
###