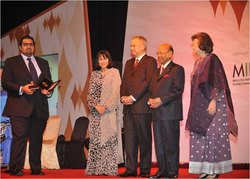 Kuala Lumpur (Vocus) November 2, 2010
The Royal Award for Islamic Finance has been awarded to Shaikh Saleh Abdullah Kamel for his visionary drive, extraordinary leadership and personal commitment in spurring the global accessibility of Islamic finance. The Royal Award was presented by D.Y.M.M. Al-Sultan Almu'tasimu Billahi Muhibbudin Tuanku Alhaj Abdul Halim Mu'adzam Shah Ibni Almarhom Sultan Badlishah, Sultan Negeri Kedah Darul Aman and Deputy Yang DiPertuan Agong, on behalf of His Majesty the Yang di-Pertuan Agong at the Royal Gala Dinner and Award Presentation today.
(Pictured left-to-right, Mr. Mohyedin Saleh Kamel, son of Award Recipient; Zarinah Anwar, Chairman, Securities Commission Malaysia; Raja Nazrin Shah, Crown Prince of Perak and MIFC Financial Ambassador; Tuanku Haji Abdul Halim Mu'adzam Shah Ibni Almarhum Sultan Badlishah, Sultan of Kedah; Dr Zeti Akhtar Aziz, Governor, Bank Negara Malaysia and Chairman MIFC Executive Committee at Malaysia's inaugural Royal Gala Dinner and Award Presentation.)
Shaikh Saleh Abdullah Kamel's work over four decades has fast-tracked the global adoption of Islamic finance and continues to have sustained financial, economic and social impact in the world. He is widely credited for pioneering the adoption of Shariah-compliant principles in banking and business. In the absence of Islamic finance at the time, his deep personal adherence to Islamic principles led him to be one of the first individuals to devise Islamic contracts for use in his business operations in the 1960s. In 1969 he founded a group of companies, which amongst others, provides Shariah-compliant retail, corporate and investment banking and treasury services and is today a global organization comprising subsidiaries in 12 countries with more than 300 branches. Shaikh Saleh Abdullah Kamel followed this by establishing the Islamic Arab Insurance Company in 1979, a pioneering takaful (Islamic insurance) company.
In his efforts to inspire and develop future talent and innovation, Shaikh Saleh Abdullah Kamel established the Islamic Economics Research Centre, King Abdulaziz University and Jeddah Center for Science and Technology in Saudi Arabia. He also founded the Saleh Kamel Centre for Islamic Economy, Al-Azhar University, Cairo and Saleh Kamel Center for Banking Studies and Research, King Saud University, Saudi Arabia. The endeavours of these institutions have led to the development of many tools, techniques and edicts.
"In line with the ambition of The Royal Award – to be the global benchmark recognition for Islamic finance, the Jury chose to honour a truly unique and pioneering individual – one whose accomplishments have endured a rigorous selection process that is qualitative, quantitative and global in impact. With his extensive contribution to the industry, we believe he will serve as a strong role model to inspire others to follow suit," says Musa Hitam, Chief Juror, The Royal Award for Islamic Finance.
A key aspect of Shaikh Saleh Abdullah Kamel's invaluable contribution is the annual Albaraka Symposium on Islamic Economics. Now in its 29th year, the Symposium is widely respected as a cornerstone of the development of Islamic finance. It gathers a worldwide audience of Shariah scholars, bankers and experts to discuss and form solutions for the future of the industry. The Symposium has resulted in more than 150 edicts that feed research and innovation, representing the backbone and basis for the activities of many Islamic financial institutions.
Following his acceptance of The Royal Award, Shaikh Saleh Abdullah Kamel will lead a series of international engagements to share knowledge, build deeper inter-linkages to the greater global finance community and inspire future nominees.
The selection criteria of the Royal Award for Islamic Finance assess both qualitative and quantitative aspects designed to honour the impact of exceptional contribution and reach in global Islamic finance. This includes financial innovation and pioneering work, exceptional leadership, adoption and acknowledgement within the industry, and inspiration and influence towards future progress and development.
Posthumous Recognition to Father of Modern Islamic Banking
The 2010 Royal Award also included a special category - a posthumous recognition of the late Dr. Ahmad El-Naggar, Father of Modern Islamic Banking. Dr Ahmad El-Naggar's first modern experiment with Islamic banking took the form of a savings bank based on profit-sharing. Through his introduction of the basic offering for Islamic banking, he was instrumental in providing for the community and establishing a platform for continuous development of the industry globally. To continue the advancement of Islamic finance, Dr. Ahmad El-Naggar established the Institute of Islamic Banking and Economics in Cairo which provides for the intellectual and operational needs of Islamic banks and the development of a new generation of Islamic finance talent.
The Royal Award is unique as it focuses on the individuals' record of achievement and outstanding contribution towards the development and advancement of Islamic finance globally. The Royal Award for Islamic Finance is spearheaded by the Malaysia International Islamic Financial Centre (MIFC) and endorsed by Bank Negara Malaysia and Securities Commission Malaysia.
For Media Enquiries and event photos:
Securities Commission Malaysia
Corporate Affairs Department
Mohd Syazwan Rahimy Mohd Mokthar
Mobile/Tel/Email: +6017 670 4232/+603 6204 8621 / syazwan(at)seccom(dot)com(dot)my
Emma Delima Ali
Mobile/Tel/Email: +6012 332 2556/+603 6204 8307 / emma(at)seccom(dot)com(dot)my
Fax: +603 6201 5078
About MIFC
In August 2006, the Malaysia International Islamic Financial Centre (MIFC) initiative was launched to position Malaysia as a hub for international Islamic finance.
The MIFC initiative comprises a community network of the country's financial and market regulators, including Bank Negara Malaysia (Central Bank of Malaysia), Securities Commission Malaysia, Labuan Financial Services Authority and Bursa Malaysia, Government ministries and agencies together with industry participation from the banking, takaful, capital market institutions, human capital development institutions and professional services companies which are participating and working collaboratively in Islamic finance.
The MIFC initiative is supported by global legal, regulatory and Shariah best practices that enable industry practitioners to conduct international business in Islamic finance in Malaysia in the areas of Sukuk Origination, Islamic Fund and Wealth Management, International Islamic Banking, International Takaful and Human Capital Development, while enjoying attractive incentives.
The MIFC Executive Committee (ExCo) comprises a high-level group of officials from key Government ministries, and agencies; financial and market regulators and financial institutions. It aims to review/provide policy direction towards ensuring the efficient coordination and effective implementation of the MIFC initiative.
Log on to http://www.mifc.com for more information.
About Bank Negara Malaysia
Bank Negara Malaysia (BNM) was established in 1959, under the Central Bank of Malaysia Act 1958 (Revised in 2009). The central bank is principally entrusted to uphold monetary and financial stability and maintain oversight over the payments system in the country.
Over the years, BNM has significantly contributed to the development of a comprehensive, efficient and resilient financial sector that has been able to meet the increasingly sophisticated needs of consumers and businesses. Malaysia's financial sector now distinctively encompasses both the conventional and Islamic financial services.
Focusing in Islamic finance where Malaysia has a comparative advantage, BNM has taken the lead in promoting Malaysia as an International Islamic Financial Centre. Within this initiative, BNM approves licences for the establishment of International Islamic Banks and International Takaful Operators as well as focusing on institutional building, including the establishment of the International Centre for Education in Islamic Finance (INCEIF) and International Shari'ah Research Academy for Islamic Finance (ISRA) in promoting training, education and research to advance the talent development for the Islamic financial services industry. Meanwhile, the BNM Shariah Advisory Council ascertains applications of Shariah principles on Islamic financial services by providers under the purview of BNM and acts as an advisor to BNM on Shariah matters on such services.
Log on to http://www.bnm.gov.my for more information.
About Securities Commission Malaysia
Securities Commission Malaysia (SC), established under the Securities Commission Act 1993, is a statutory body that reports to the Minister of Finance, Malaysia.
The SC has direct responsibility for supervising and monitoring the activities of market institutions including the exchanges and clearing houses, as well as all persons licensed under the Capital Markets and Services Act 2007 (CMSA). Underpinning these functions is the ultimate aim of protecting investors. SC is also responsible to promote and develop securities and futures markets in Malaysia.
The SC spearheads the development of the Malaysian Islamic capital market (ICM) by establishing a Shariah Advisory Council (SAC) to advise on matters relating to Islamic capital market activities and products. Over the years, the SC has built a comprehensive and facilitative framework for Islamic funds and wealth management. In addition, the SC has been driving product innovation in the Islamic equity and sukuk (Islamic bond) sectors; on top of promoting education, training, consultancy and research for the ICM.
Log on to http://www.sc.com.my for more information.
# # #