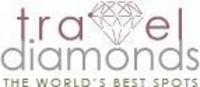 "The best spots in the world to eat, sleep and visit can be found on TravelDiamonds.com"
(PRWEB) November 2, 2010
http://www.TravelDiamonds.com mission is to help travelers to find the very best locations in the world to eat, sleep and visit.
Currently there are 1283 hotels, 2438 restaurants and 910 sights in the database Traveldiamonds database. These spots have been chosen because they have already been awarded the most prestigious awards and highest ratings by people who know. Most of the mentioned spots have won prestigious awards on their continent and the world's very best hotels and restaurants can be found on the site.

Initial website features include:
1. Search hotels, restaurants & sights
2. Find closest top spots near your location
3. Read about a spot, find it's location, one-click link to relevant content in Google
4. Personal pages to make lists of favourite and to visit places in the world
5. Direct telephone and email contact with hotels, restaurants through website
6. Direct link from Traveldiamonds website to sites of restaurants and hotels
Berend van Hemel, initiator and architect for the website says: "We hope that with the Travel Diamonds website we will be able to offer the best of the best in travel, independent of how much things cost or where they are, the ultimate source for the ultimate in quality and relevance".
During the coming months additional "world-treasures" will be added to the system to come to 1500 hotels, 3500 restaurants and 2000 sights. Later also other groups of "Travel Diamonds" will be offered on the site like the best world events, (train-) journeys and golfcourses.
###