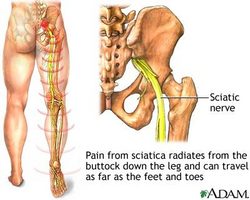 One day it just started, the pain in my leg and numbness in my toes--- out of nowhere!
Orange City, FL (Vocus) November 9, 2010
A Holistic approach can treat the whole body so finding the root of the pain, and treating it with a combination of Acupuncture along with Physical Therapy works for relieving Sciatica pain. The techniques developed by the founder of ARC Acupuncture and Physical Therapy have proven results for chronic and severe sciatica pain.
The pain of Sciatica can cause tremendous suffering. Joseph Nardi, a retired aerospace toolmaker, became one of its unfortunate victims. "One day it just started, the pain in my leg and numbness in my toes--- out of nowhere!" Enduring extreme discomfort for years without answers, Mr. Nardi tried getting relief from a number of different physicians to no avail. "If ten (10) is the highest level of pain, then I was a ten!" Mr. Nardi said emphatically. "Walking and bending were excruciating" he added, "And I used to be able to walk two miles every day!"
Frustrated for some answers, Mr. Nardi finally took his wife's suggestion and went to see her doctor at ARC Acupuncture & Physical Therapy Specialists. He knew acupuncture had helped her and some of his friends in the past. "Dr.Wang really has helped me and it only took four or five treatments" Mr. Nardi exclaimed. "He is so knowledgeable and caring". He has since learned that the pain from Sciatica is quite often eliminated through acupuncture treatments. Delighted with his success he is still waiting for the green light on getting back to his old walking routine. However, Mr. Nardi is beginning to feel like himself again. " Not only has Dr. Wang helped me, his staff is wonderful too! They are all very caring people". Then he added, "And if Dr. Wang can put up with me, he is good!"
The symptoms of Sciatica can include the following

Pain on one side of the buttock or in one leg that is worse when sitting.
Burning or tingling down the leg.
Weakness, numbness or difficulty moving the leg or foot.
A constant pain on one side of the rear. A sharp pain that may make it difficult to stand up or to walk.
ARC has 3 offices in Volusia County Florida and 1 in Mt. Dora Florida. FOR MORE INFORMATION OR A FREE CONSULTATION
PLEASE CALL: 352-774-6339 begin_of_the_skype_highlighting 352-774-6339 end_of_the_skype_highlighting
ARC Acupuncture and Physical Therapy at:
OR EMAIL US AT:
acupt92(at)gmail(dot)com
ARC Acupuncture and Physical Therapy company has tremendous results for almost all pain an individual can experience.
###