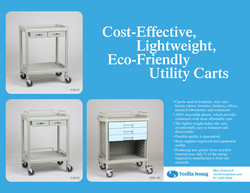 Carts are getting smarter. Several cart manufacturers serving healthcare are shifting focus away from simply providing the wheels and steel that make bedside computing possible
New York, NY (Vocus) November 3, 2010
More than 300 companies throughout the world in countries such as Japan, Denmark, Italy, Thailand, Yemen, Mexico and Greece depend on Yeollin Sesang's high quality, cost-effective utility carts for multi-purpose use. Now, U.S. hospitals, offices, research labs and more can benefit from the superior comfort and innovative design of these multi-functional carts, created to meet customers' needs without sacrificing the environment.
"Yeolin Sesang partners with businesses to help them promote efficiency in the workplace," said Mr. Hee-Sun Jung of Yeolin Sesang. "Each cart is designed and manufactured for effectiveness and value with an underlying focus on comfort and the environment. We manufacturer from 100% recycled plastic and bioengineer specific corners and angles to create elaborate design, without elaborate costs."
Getting supplies from one area to another in a clinic or hospital in an efficient and effective manner is a common challenge for modern medicine. And since transportation carts are typically made of heavy materials, users experience fatigue or discomfort while using them. Yeollin Sesang's multi-function carts can transport everything from medical supplies to meals safely and efficiently while minimizing fatigue. Because they are ergonomically designed and built with the user in mind, medical personnel stay organized and gain access to the tools they need, when they need them, increasing response capabilities. Even the smaller designs are lightweight enough to be stored in restricted areas safe from theft or improper usage and loaded onto multi-use carts for easy portability.
"Carts are getting smarter. Several cart manufacturers serving healthcare are shifting focus away from simply providing the wheels and steel that make bedside computing possible," says Kevin Featherly, McGraw Hill news editor. "In effect, they are becoming medical device companies changing the concept of the "all-in-one" cart to provide more functionality."
Yeollin Sesang carts are a cost-effective effective solution to keep supplies organized and equipment mobile, which is often needed in hospitals, skin care/beauty salons, factories, kitchens, offices, research laboratories and restaurants. Some models connect with a cosmetic system and utility hanger, which works superbly in hospitals as a dressing cart. Utility buckets and drawers can also be attached, which makes it easy to pack accessories. All products have a self-locking system for extra safety and can be equipped with a brake caster upon request.
"Our extremely scalable utility carts are made from eco-friendly, recyclable materials combined with innovative technology and research to create affordable products with the ultimate comfort," says Hee-Sun Jung of Yeollin Sesang. "We are continually expanding our business territory by listening to customers needs, keeping their satisfaction priority number one, and maintaining our goal of Better Products & Better Services."
Low cost utility carts are especially important for the medical community. As the 50+ age group continues to rise, more healthcare procedures will be demanded, which will require additional medical furniture and supplies. The stock of medical equipment will expand and the rate of replacement will increase. Additionally, 3rd party payers like Medicare and Medicaid, determine the cost reimbursement levels for medical supplies and furniture, causing healthcare industry participants to stay within strict guidelines to the price of industry products and services. As demand for affordable, eco-friendly products rises, Yeollin Sesang leads the cart manufacturing industry.
"It's apparent that Yeollin Sesang specifically designs utility carts to enhance user comfort," says Larisa Hernandez. "Because they are more affordable, we can provide more carts for the company. Our staff appreciates the smooth functionality and convenience of the carts on each floor, which encourages productivity and efficiency."
Traditionally, multi-purpose utility cards have been made with a combination of steel and plastic, which makes these carts heavier and about twice as expensive as the Yeollin Sesang product line. Yeollin Sesang manufactures carts using 100% recyclable plastic, which provides consumers with lighter, more affordable carts that they prefer. The lighter weight makes the carts exceptionally easy to transport and disassemble and their durable quality is guaranteed. Plus, producing new plastic from recycled material uses only two-thirds of the energy required to manufacture it from raw materials.
"Let every individual and institution now think and act as a responsible trustee of Earth, seeking choices in ecology, economics and ethics that will provide a sustainable future, eliminate pollution, poverty and violence, awaken the wonder of life and foster peaceful progress in the human adventure," says John McConnell, founder of International Earth Day.
About Yeollin Sesang Yeollin Sesang Co. was established in 2005 as a distributor of utility carts and began manufacturing carts in 2006 after improving the existing plastic and steel carts available in the industry. The company has five injection machines at its Korean factory and production capacity is approximately 5,000~6,000 pieces a month. Yeollin Sesang Co maintains three utility model registration certificates, five design registration certificates, and is certified with ISO 9001:2008 and CE (Declaration of Conformity).
About MZI Global:
MZI Global is a market entry strategy consultancy firm based in New York City serving international inbound clients entering North America and outbound US companies expanding to global markets. MZI Global¹s Ethnosynergism® network of relationships includes local and foreign governments across 10 + cultures and languages with 1000+ companies. From strategy to implementation, MZI Global is a "deal maker" focusing on cost-effective market entry on a global scale.
MZI Global¹s clients include public sectors and foreign governments representing some of the leading economies in the world, including ECO - GREEN Asian suppliers across 17 industries such as; cosmetics and beauty supply, food and beverage, furnishings, technology and more.
Through a central contact point, MZI Global enables the U.S. supply chain to deal with one resource who understands U.S. corporate needs, while introducing innovative products from international markets like Korea and Asia. With full support of the SBC Korean exporting agency and its trade association, South Korean companies are becoming trusted partners for U.S. buyers. Hundreds of new South Korean products can be sourced via the MZI Global network. MZI Global is the ultimate resource for South Korean products.
Under the leadership of president and CEO Mira Zivkovich, recipient of the 2007 Ellis Island Medal of Honor, MZI Global puts its international, multicultural marketing expertise to use through strategy development and implementation for US ethnic markets. Learn more at http://www.mziglobal.com.
###