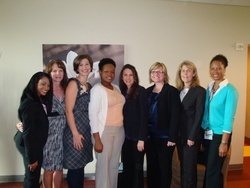 The Houston Area Women's Center provides a vital service for Houston
Houston, TX (Vocus) November 2, 2010
The attorneys at Andrews Kurth LLP are known for their hard work and dedication, both in and out of the courtroom. That spirit was on full display as firm volunteers recently helped renovate two rooms at the Houston Area Women's Center (Women's Center).
Founded in 1977, the Women's Center assists those affected by domestic and sexual violence to help move their lives forward. The organization provides shelter, counseling and advocacy for survivors as well as community education.
The Andrews Kurth Women's Initiative Team has pledged ongoing support for the Women's Center projects this year, including the recent work at their shelter to revamp a sitting area with new paint, furniture, artwork and accessories and to refurbish and supply a work skills training center with ten new Dell computers, a printer/fax machine, a host of training software, new furniture and office supplies.
"The Houston Area Women's Center provides a vital service for Houston," says Bob Jewell, Managing Partner and co-chair of the firm's Women's Initiative Team. "As a firm, we are dedicated to helping improve our communities, and we are immensely proud of the attorneys who set down their briefcases and rolled up their sleeves."
The leaders of these projects, associates, Lauren Charboneau and Angel Hall with the assistance of associates, Shay Bryson, Natalie Kurz, and Morgan O'Neill, assembled a team of lawyers to volunteer. The team consisted of Marcela Berdion-Straub, Lauren Chapman, James Greer, Philip Haines, Dilshad Kasmani, Jennie Miller, DeLaina Mulcahy, Ebon Swofford, Laura Trenaman, Eleanor Verret and Chasless Yancy.
Through the generous donations of computers, software, furniture, artwork, other necessities and manpower, the firm, its vendors and employees were able to successfully complete the two room makeovers.
"The women and children who seek shelter at our residential facility are fleeing violent homes. As anyone can imagine, being displaced and moving into unfamiliar surroundings can be incredibly hard. To make their difficult transition as pleasant as possible, we rely on wonderful community partners, like Andrews Kurth, to help us make our facility more like home for those we serve. Both the sitting area and the training center that the Andrews Kurth volunteers updated and renovated are nothing short of spectacular. We are so grateful to the Andrews Kurth volunteers for their compassion and dedication to our clients and for the generous donation of their time, talent and resources," said Rebecca White, President & CEO.
The value of the attorneys' hard work extends beyond a fresh coat of paint and new furniture, as evidenced by a story shared by a Women's Center shelter client earlier this week.
"I had a really bad day, but the fresh space helped me pull through! I got a book, curled up on the sofa and was able to turn a corner mentally," the woman said. "It is a hard transition being in a shelter, and this small kindness has given me faith that things will get better. Please keep doing these things!"
About Andrews Kurth LLP
For more than a century, Andrews Kurth has built its practice on the belief that "straight talk is good business." Real answers, clear vision and mutual respect define the firm's relationships with clients, colleagues, communities and employees. With 400 lawyers and offices in Austin, Beijing, Dallas, Houston, London, New York, The Woodlands and Washington, DC, Andrews Kurth represents a wide array of clients in multiple industries. For more information about Andrews Kurth, please visit andrewskurth.com.
###