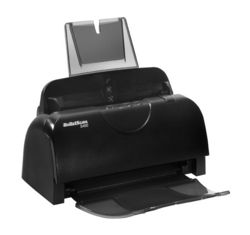 "I am extremely pleased to accept this award on behalf of our engineering and quality assurance teams", said Murray L. Dennis, president and CEO of iVina, Inc.
Milpitas, CA (PRWEB) November 10, 2010
iVina announced today that Business Equipment Research and Technology Lab (BERTL) awarded iVina with its prestigious "BERTL's BEST Innovation Award in Scanning Technology" for the BulletScan S300 and S400. BERTL's Best Innovation Awards recognize and promote new technology that, in its expert opinion, is likely to help shape the way the market will look in a year or two.
BERTL's Best Awards recognize individual devices, software, management utilities, and entire product lines. BERTL's analysts review current product lines and new product introductions to identify the select group of devices and software that stand apart from the others. For more than 15 consecutive years, BERTL has recognized the best devices and software in the digital imaging marketplace with the BERTL's Best Awards. Winners are selected by well respected, expert analysts after rigorous examination of the hundreds of digital imaging devices, software, and management utilities in the worldwide marketplace.
"I am extremely pleased to accept this award on behalf of our engineering and quality assurance teams", said Murray L. Dennis, president and CEO of iVina, Inc. "Our team takes great pride in developing products that promote innovation, ease of use, and true productivity value. For the first time, BulletScan end users can scan documents into Google Docs in a single click and share the information instantly with their customers, vendors and associates. Google claims that a small business of 10 employees can reduce their IT costs by 90% when deploying Google Apps."
The BERTL's BEST Innovation Award for Scanning Technology cited the BulletScan S300 and S400 in the following areas:
o One-click scanning to Google Docs, Evernote, YouSendIt and other cloud-based document management services.
o Innovative user interface that includes easy mode selection for novice users and advanced mode which offers advanced image processing functions normally found on more expensive scanners.
o Great Value – faster scan speeds and more accurate OCR technology than most scanners in its price range. Includes all the software to organize documents and business cards.
o Best Warranty Coverage – 2-year warranty coverage offered upon product registration.
BERTL also rated the BulletScan S300 and S400 at 5-Stars each, and the BulletScan F600 at 4.5 stars . BERTL's prestigious Five Star, Exceptional rating is reserved exclusively for devices that deliver an outstanding range of business-critical features/functions, are innovative, easy to use, well-designed and represent exceptional value for the money for their target user base. BERTL's highly prestigious 4.5, Outstanding rating is strictly reserved for devices that deliver a range of business-critical features/functions that are above average and provide potential buyers with a good return on investment (ROI).
About iVina, Inc.
iVina, Inc. designs, develops, markets, and supports innovative document scanning solutions. iVina combines best of class software and hardware to meet the ever-increasing business necessities in today's digital world. iVina, Inc. is a privately-owned company headquartered in Milpitas, CA. See http://www.bulletscan.com.
About BERTL
The Business Equipment Research and Test Laboratories Inc., (BERTL) is an independent laboratory whose purpose is to provide objective, independent product evaluation reports and comparative analyses on imaging devices and software solutions. BERTL prohibits any manufacturer-control over its product evaluations, and bases its opinions, ratings and awards on a combination of rigorous analysis and worldwide customer satisfaction research. At all times, BERTL's primary focus is the end user. BERTL's evaluation reports, customer satisfaction research, awards and product ratings are undertaken entirely at BERTL's expense for the benefit of its worldwide subscriber base. Covering all major digital imaging manufacturers, BERTL publishes the world's most extensive Web site of evaluation reports, comparisons data, vertical market research, news and more on copiers, printers, MFPs, production and workgroup scanners, fax machines, color and production equipment and wide format devices. BERTL reports, research and other industry informative services are available in a range of specialized subscription services. To learn more about BERTL, visit http://www.BERTL.com or telephone 1.973.882.0200.
Copyright© 2010, The BulletScan brand name and logo are registered trademarks of iVina, Inc. All Rights Reserved. ©ABBYY. All Rights Reserved. ABBYY, the ABBYY logo, ABBYY FineReader are either registered trademarks or trademarks of ABBYY Software Ltd. All other trademarks are the property of the respective owners and are acknowledged. iVina, Inc. Milpitas, CA.
###