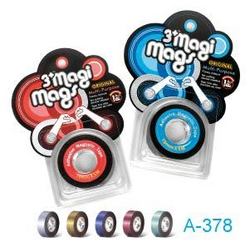 3+ Magi Mags Tape is one of new design products that are launched by Kai Rong after won the prize at 2008 TAIPEI International Invention Show & Technomart. Today, Kai Ron is able to producing any kind of rubber magnet, including the most popular 3+ magi m
(PRWEB) November 5, 2010
Anyone in the adhesive magnetic tape industry will have come across Kai Rong. Kai Rong is one of the leading and successful manufacturers of adhesive Magnetic tapes in Taiwan. 3+ Magi Mags Tape is one of new design products that are launched by Kai Rong after won the prize at 2008 TAIPEI International Invention Show & Technomart. Today, Kai Ron is able to producing any kind of rubber magnet, including the most popular 3+ magi mags tape, promotional magnets, magnetic Photo Frames, metal sheet and other technical raw materials.
As the name implies, this 3+ Magi Mags has three advantages- we can print colors on the surface directly, we can tear the tape without scissors, and there is "Inch mark" on it as a ruler. Besides, 3+ Magi Mags also has the standard features of Self-Adhesive Magnetic Tape.
We can say that Self-Adhesive Magnetic Tape is absolutely a thing of wonder and usefulness. The sticky backing is able to adhere to all common surfaces. You just tear off 2 pieces of the magnetic tape (at the same size), stick one on the wall and stick the other one to the backside of the object (such as your photos, posters, calendars, etc.). Then, make sure that both magnetic sides are facing each other, the tape strips will stick to each other magnetically. It couldn't be any easier or more versatile. And the Magnetic Tape can be easily removed. Unlike conventional removable adhesive tape, you can use this magnetic tape again and again.
Kai Rong is the first ISO 9001:2008 certified manufacturer for rubber and plastic magnets in Taiwan. And this company has been at the forefront of manufacturing magnetic tape and magnetic materials and developing new applications for 33 years. Kai Rong even imported the brand-new, proven equipments and adopted high-quality materials to produce the best products, of which quality meets the US and Europe international standards. There is no doubt that Kai Rong rubber magnetic and plastic magnets are safe and are available for daily use. Beside 3 Magi Mags Tape, Kai Rong manufactures various magnetic products with a variety of shapes and sizes. Such as Rubber magnets materials: sheets, bars, irregular-shape extruding in multiple sizes and thickness, back-gluing, colored EVA, PVC, printing and die-punching available Magnetic finishes: magnetic printing paper, easy-take powerful magnetic bars (pat. pending), magnetic cubic mini whiteboards w/trays (patent products), super-strong magnetic clips, creative magnetic name boards, magnetic rulers, 3D magnetic photo frames, magnetic paper holders (patent products), magnetic multiform. For more information, please contact Kai Rong Company.
Contact information:
Company name: Kai Rong (Magnets) Industrial Co., Ltd.
Contact Person: Mr. M. T. Wu / President
Email: alden(at)magimags(dot)com
Address: 31, Lane 268, Hsin Shu Rd. Sinjhuang, Taipei Hsien 24262 Taiwan
Tel: 886-2-22028832
Fax: 886-2-22042993
Web site: http://www.magimags.com
# # #