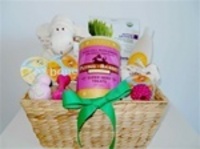 The World's First Organic Pet Basket at OrganicPetBoutique.com
New York, NY (PRWEB) November 12, 2010
One morning in August founders of Organic Pet Boutique Shana and Len Bentivegna received a call from Pet Lover and customer Sabrina Kleier from HGTV's popular hit show Selling New York. Sabrina called to invite them to participate in Amanda Hearst's Friends of Finn Gala held by the Humane Society of the United States in New York City. "This was not only an opportunity to raise awareness for Friends of Finn but also to assist Organic Pet Boutique in their efforts to get out the word out regarding companies that continue to put harmful dyes and ingredients into our pets food, toys and treats." -Shana Bentivegna
Amanda Hearst purchased her puppy Finn from a New York City pet store and was unaware that he was born at a puppy mill as he was presented as a "pup with papers." To change the circumstances for dogs like Finn, the Friends of Finn sold tables and raised gifts for an ongoing tri-state public education, awareness and information program on why, how, and where to get dogs from reputable sources.
In addition to raising awareness of the suffering of breeding dogs trapped in the system, Organic Pet Boutique was also able to bring attention to the harmful pet products that our pets are given unknowingly everyday through their donation of "The Complete Organic Pet Basket".
"As a result of this great event, we were inspired to launch the world's first line of Organic Pet Gift Baskets." The baskets introduce our best selling pet products to customers looking for high quality Organic Pet Gifts. They are perfect for the new pet owner looking for a Dental Basket, Toy Basket or Ultimate Organic Starter Basket. All products undergo a screening process so customers are assured that they are buying safe items for their pets when they shop at OrganicPetBoutique.com!
Organic Pet Boutique.com was created during the summer of 2007 in an apartment in Jersey City, NJ. During their walks in Central Park with Cesar and Milo (their two Shih Tzus), founders Len and Shana Bentivegna noticed that their friend's dogs were getting very ill. A few weeks later television broadcasts exposed that pet food additives coming from China were contaminated and cherished pets were dying. Worried for their two dogs Cesar and Milo they began a mission to find safe pet products.
After exhaustive research, they found that organic pet products were not subject to the toxins prevalent in affected products imported from China due to the strict rules and regulations governing the organic pet product industry. Having trouble finding a comprehensive organic pet product site they sought out to create one.
On December 7th 2009 Organic Pet Boutique.com shifted from a dream into a reality! Currently Organic Pet Boutique has been growing at an unbounded rate due to the huge unsatisfied demand in the Organic and Natural Pet Product space.
To view Organic Pet Boutique's Holiday Gift Baskets Visit http://www.OrganicPetBoutique.com and head to Gift Baskets! Happy Holidays!
###