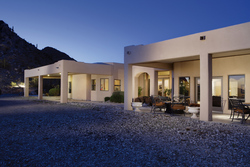 When the gavel falls on auction day, someone will walk away owning this mountain paradise, regardless of the final bid price…it's an amazing opportunity for buyers.
Phoenix, AZ (PRWEB) November 5, 2010
One of Arizona's most majestic mountaintop estates is being offered at absolute auction on Thursday, December 9. Located in Maricopa, Ariz., with an unobstructed view of the Hidden Valley, the 154-acre property features a one-of-a-kind, luxury home, built upon its own mountain and specifically designed with a focus on embracing its natural surroundings. The December 9 auction will offer this unique mountain estate absolute, with no minimum and no reserve, to the highest bidder, regardless of price.
No expense was spared when this custom home was built in 2002. The majestic gated entrance and both of the home's fireplaces are enhanced with stone and turquoise harvested directly from the property. The home, situated at the pinnacle of the Palo Verdes was designed to offer 360-degree views of the Sacaton, Santan, Maricopa and Superstition mountains throughout its 5,346 square foot layout that includes four bedrooms, five-plus bathrooms, gourmet kitchen, four-car garage and covered patios. It's not every day that you get to the opportunity to purchase your very own mountain.
The estate offers a rare combination of seclusion and convenience, with BLM land to the north and west and state land to the south, providing maximum privacy, and a 20-minute drive to a private airstrip or 40-minute drive to Phoenix to enjoy the city's amenities and shopping.
Conducted by Maverick Commins, auctioneer and president of United Country – Supreme Auctions, the live auction will take place onsite at 13040 North Hidden Valley Road in Maricopa, Ariz., on December 9. Registration for the event will begin at 1 p.m., and the auction will take place at 2 p.m. Buyers also have the option of live internet bidding at http://www.proxibid.com/supremeauctions. The property will be available for viewing by appointment from 12-4 p.m., November 13 & 14, 20 & 21, 27 & 28 and December 4 & 5.
"When the gavel falls on auction day, someone will walk away owning this mountain paradise, regardless of the final bid price…it's an amazing opportunity for buyers," said Commins.
Property details, photos and terms and conditions can be found at http://www.Supreme-Auctions.com. United Country – Supreme Auctions can be contacted at 866-929-2243 for additional information. The company will also be conducting an auction of a 12,808 square foot luxury home on 73 acres located within Tubac, Arizona's prestigious Morning Star Ranch on Tuesday, December 7.
About United Country
United Country Real Estate is the largest fully integrated network of conventional and auction real estate professionals in the United States. Based in Kansas City, Mo., the company has been an innovator in real estate marketing since 1925. United Country supports 600 offices across the U.S. and in Costa Rica with a unique, comprehensive marketing program that includes one of the largest portfolios of property marketing web sites (more than 1,100 separate sites), seven proprietary real estate catalogs with a cumulative distribution of 1.5 million readers, an extensive, current buyer database and national advertising of properties that reaches more than 90 million homes per week. United Country has recently been recognized by Dun and Bradstreet's AllBusiness.com, The Land Report, Entrepreneur and The Wall Street Journal as one of the top U.S. real estate franchises.
###