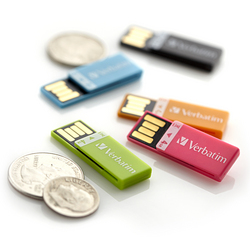 We're very excited to launch the Clip-it USB drive, a unique and ultra-convenient way for consumers to consolidate their digital files and paper documents at home and in the office
Charlotte, NC (Vocus) November 8, 2010
Verbatim® Americas LLC, the information storage pioneer, has married portable storage and award-winning design with its all-new Store 'n' Go Clip-it USB drive, an innovative solution that lets consumers seamlessly combine their digital and hardcopy files. The super lightweight paperclip-like device brings functionality to flash storage in a whole new way with a compact clip-on design that offers the most practical – and stylish – way for users to share and save important documents, presentations and more!
"We're very excited to launch the Clip-it USB drive, a unique and ultra-convenient way for consumers to consolidate their digital files and paper documents at home and in the office," said Mark Rogers, Verbatim Product Manager, Flash. "The new unit makes it easy for users to keep all of their data in one place, and, with its diminutive size and light weight, the Clip-it is a great option for physically sending and sharing files."
Verbatim's Store 'n' Go Clip-it USB drive simply snaps onto documents, folders and envelopes like a paperclip. The drive is available in 4GB capacity and comes in five bright colors to fit every mood and décor — pink, green, blue, orange and black. The new device is exceptionally lightweight, adding no additional postage cost when sent along with paper documents in the mail.
Designed by award-winning Berlin-based product/industrial designer Arman Emami, the Clip-it has earned an impressive Red Dot Design Award, which recognizes the "Best of the Best" in 2010.
The Store 'n' Go Clip-it USB drive, MSRP: $19.99, will be available beginning December 2010 – just in time to stuff stockings nationwide.
About Verbatim
Verbatim's businesses in the Americas, Europe/Middle East/Africa and Asia Pacific regions are wholly owned subsidiaries of Tokyo-based Mitsubishi Kagaku Media Co., Ltd. MKM's parent company, Mitsubishi Chemical Corporation (MCC), is one of Japan's largest chemical companies. Verbatim develops and markets innovative, high-quality products for storing, moving and using digital content. Known for its leadership in the optical, magnetic and flash storage and related accessories markets, the company provides reliable, unique technologies and products that are highly sought after and broadly distributed worldwide. For more information, contact Verbatim Americas, LLC, 1200 West W.T. Harris Boulevard, Charlotte, NC 28262. In Europe, Verbatim Ltd., Prestige House, 23-26 High Street, Egham, Surrey, TW20 9DU, UK, (+44) 1784 439 781. In Japan, Mitsubishi Kagaku Media Co., Ltd., 4-1-23, Shiba, Minato-ku, Tokyo 108-8415, Japan (+81) 3-5454-3972. Or visit the web site at http://www.verbatim.com and select the country of your location.
# # #