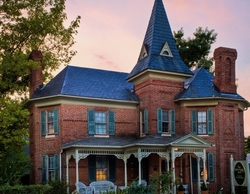 Destination Nexus highlights more than double the US bed and breakfasts and inns than the next directory. Our new focus is to do the same for the rest of the world.
Salem, UT (PRWEB) November 8, 2010
Convoyant LLC - makers of Destination Nexus - which highlights 16,000+ US bed and breakfasts, inns and distinct hotels - today announced international capabilities and introduces recommended activities state by state.
Destination Nexus was launched in March of 2010 as an encyclopedia of destination oriented lodging. The project's focus was to create the first directory of its kind focused on large pictures and clean content. All bed and breakfasts and inns are ranked by Destination Nexus travel editors so the most recommended and polished inns are at the top of their city and state on Destination Nexus.
Vice President, Jeff Bryce notes, "We had found all bed and breakfast directories lacking and unattractive, with quarter sized photos, a focus on banner ads and information overload. Visitors struggled to find that perfect place to stay. Showcased inns were those who paid the most, not necessarily those that offered the best experience. We went for the complete opposite approach."
Destination Nexus now has recommended activities, state by state and region by region. Staying true to form activities on Destination Nexus have attractive large pictures along with core details. This latest release allows Destination Nexus to grow international, starting with Canada. Hundreds of new international bed and breakfasts, inns and hotels are being added weekly to Destination Nexus.
"For the last fifteen years directories have been used to promote bed and breakfasts and lodging. The Achilles heel of a normal b&b 'directory' is that only bed and breakfasts that pay are listed. So there are dozens of very small directories that never made it and a handful of medium directories that have been around for a long time but are ineffective and outdated. We took the 'encyclopedia' approach, where all inns are listed regardless of membership and listings are visual and informative. Destination Nexus has been well received by visitors and search engines due to our fresh approach. Now that the US has been launched, our new focus is to become the most comprehensive international source as well," says James Mayfield, President of Convoyant.
Visit DestinationNexus.com to see Destination Nexus in action and to see recommended activities and international expansion as it progresses, country by country.
About Convoyant LLC:
Convoyant LLC, based in Salem Utah - makers of Reservation Nexus, Destination Nexus and Association Alliance - has been elevating the bed and breakfast industry since 2003 through innovative software. Reservation Nexus is the most popular all-in-one reservation system within the bed and breakfast market. Reservation Nexus provides real-time bookings, guest management and automated marketing. Destination Nexus - with over 16,000 U.S. inns - is the most comprehensive list of bed and breakfasts, inns and distinct hotels. Association Alliance provides association software to bed and breakfast associations and their members.
Source: Convoyant
Related Links:
http://destinationnexus.com/World-Lodging.html
http://destinationnexus.com/United-States-Activities.html
###