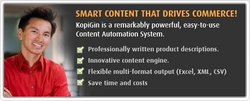 The capacity to instantly generate thousands of unique descriptions for any given product will revolutionize online sales and will give a competitive edge to small businesses and major corporations alike.
Toronto, Canada (PRWEB) November 8, 2010
GeekSpeak[imc a provider of integrated marketing communications services for traditional and new media is proud to announce KopiGin, ( http://www.Kopigin.com), a revolutionary web-based content automation system that simplifies the catalogue copywriting process for online and traditional retailers, driving sales while reducing costs. KopiGin can create over 100,000 descriptions for a single product.
The brainchild of GeekSpeak[imc] founder and General Manager, Isaac Wanzama, KopiGin.com leverages the expertise of a seasoned team of copywriters to deliver a content automation system that provides to e-tailers and retailers rich catalogue copy with tremendous depth and breadth of scope, at a fraction of the cost of traditional copywriting services. The capacity to instantly generate thousands of unique descriptions for any given product will revolutionize online sales and will give a competitive edge to small businesses and major corporations alike. "We built KopiGin from the ground up to satisfy multiple market segments," says Wanzama. "Startups and small businesses will benefit from KopiGin's ability to create compelling catalogue copy while minimizing costs, resulting in substantial savings that can be invested in core capacities and in growing their operations. Major retailers can streamline the maintenance of large online catalogues and, thanks to near-instantaneous copy generation, reduce the time it takes to get new product descriptions onto the web, into print catalogs or in fliers. We have clients with thousands of products; KopiGin is truly a game changer."
KopiGin's easy-to-use web-based interface is available 24/7 from any Internet connection in the world, "It's like having a fully staffed marketing agency at your fingertips," adds Wanzama. "We've distilled the expertise of our copywriting wizards into a cutting edge application that incorporates Web 2.0 best practices and makes it a snap to create compelling marketing copy on the fly." KopiGin.com will initially launch in English only, but French and Spanish implementations are already in the works. Other language offerings are certainly to follow as Wanzama has his eyes on the global market. "This is far more than a simple copywriting solution. KopiGin.com is a big picture application with vast market potential. It's certain to be a boon for online and print catalogue merchants, e-commerce platform vendors, marketing and content generation firms, product content syndicators, and foreign manufactures in Asia, Europe, and Latin America."
KopiGin takes the guesswork out of content generation. Customers can sign up to generate a single product description or several hundred at a time. With its unique pull down menus and batch feature that allows users to upload existing catalogue databases for instant population, KopiGin simplifies and automates the catalogue copy process. "If you've ever surfed the web, you know how to use KopiGin," stresses Wanzama. "If you can click a mouse or send a file, you're good-to-go." The entrepreneur and GeekSpeak[imc] General Manager is no stranger to the online world, having provided web services and copy for heavy hitters like Wal-Mart, ToysRus, Best Buy, Sears, and Maurices.com. "There's no reason to complicate things. Apps are increasingly moving online. Cloud computing is the becoming the norm. It's the promise of the Internet age. We've simplified the content automation process and made it available to everybody at affordable rates. There's no reason to cling to old-fashioned business models: KopiGin.com is a forward-looking solution that embraces the future."
http://www.KopiGin.com is available immediately. Visitors can view a product demo online, sign up for a 15-day/ 50-product trial and learn more about pricing. "We're confident that KopiGin.com will change the way businesses generate catalogue copy. Once users realize how easy and cost-effective it is, they'll never look back."
About GeekSpeak[imc] Founded in 2004, GeekSpeak[imc]–Intelligent Marketing Communication-–is a full-service provider of marketing services, based in Toronto, Canada. Employing a handpicked team of expert marketers, copywriters, translators and designers, we engage your audience and communicate the passion of your brand locally and worldwide. Client work includes Walmart, Best Buy, Sears, RBC, Yellow Pages Group, Maurices.com, HBC and more. For more information about GeekSpeak[imc], please visit http://www.thinkgeekspeak.com or call at 1.416.619.5349 http://www.twitter.com/geekspeakIMC
GeekSpeak[imc] 416-619-5349 info@kopigin.com isaac@thinkgeekspeak.com
###