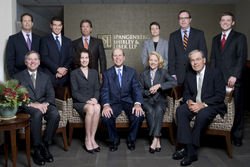 We believe that the public will greatly benefit from the FDA's decision to strictly contraindicate Omniscan in this group of patients, a position which has been heavily supported by leading experts around the world.
Cleveland, OH (PRWEB) November 9, 2010
On September 9, 2010 the FDA announced its decision to require changes to the labeling of gadolinium-based contrast agents (GBCAs) for use with patients with impaired kidney function who undergo MRI procedures. These changes are intended to minimize the risk of nephrogenic systemic fibrosis (NSF), a severely disabling and sometimes fatal disease caused by toxic gadolinium released from some of the less stable GBCAs. There is no effective treatment for NSF.
These labeling changes differentiate three specific GBCAs—Omniscan, Magnevist, and Optimark—by contraindicating them in patients with severe kidney impairment. There are four other FDA approved GBCAs- ProHance, MultiHance, Eovist and Ablavar which are available if the need for a gadolinium enhanced imaging procedure is essential in this at-risk population.
The FDA's announcement followed a public hearing held by an FDA Advisory Committee on December 8, 2009 to specifically consider whether certain GBCAs pose an increased risk for NSF. This FDA labeling change mirrors the claims made in hundreds of lawsuits brought against GE Healthcare, the manufacturer of Omniscan, that Omniscan's inherent design results in instability and toxic gadolinium release under conditions of prolonged retention, such as in patients with severe renal impairment.
Spangenberg Shibley & Liber has been extensively involved in prosecuting claims against GE Healthcare as a part of the Federal Multi-District Litigation pending in Cleveland (Case 1:08-GD-50000 in the Northern District Federal Court). Firm partners, Peter Weinberger, William Hawal and Peter Brodhead are serving as Plaintiff's' Liaison Counsel in helping to coordinate the handling of cases across the country. The firm is currently preparing for a trial scheduled on January 24, 2011 on behalf of one of its NSF clients.
###