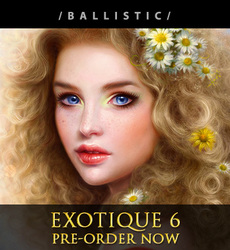 "The record number of entries from artists in many new countries shows that the EXOTIQUE series is reaching out to more artists, and providing a valuable platform to showcase their inspirational art.
(PRWEB) November 10, 2010
Drawing from such a vibrant community of artists, EXOTIQUE 6 stands apart as the best collection of new character art with almost half of the artists being published for the first time.
Like all Ballistic Publishing books, the artists and art in EXOTIQUE 6 are the heroes. Every image is carefully color-corrected to ensure that it's as vibrant and detailed as the artist's original vision. Each layout is assembled to show off the artwork at its best with sympathetic styles and color palettes, and when the artwork demands a full-spread or full-page, it is given its rightful space. EXOTIQUE 6 features eleven amazing double-page spreads and 93 full-page images, showing the artwork in its best possible light.
"The EXOTIQUE series has launched the careers of many talented artists, and continues to shine a light on the best new talent in character design," explains Publisher Daniel Wade. "The record number of entries from artists in many new countries shows that the EXOTIQUE series is reaching out to more artists, and providing a valuable platform to showcase their inspirational art."
The Ballistic Publishing team is always looking for new ways to squeeze more artwork into its pages. With EXOTIQUE 6, not only is there more artwork than all previous editions, but there's also more full-page images showing them in all their glory. The work of 229 highly-talented artists fill EXOTIQUE 6 with 344 pieces of inspiring character art in genres ranging from science fiction, fantasy, and manga/anime, to photorealism and stylized realism. The new edition also presents the work of 95 new artists (approaching half of the artists featured) who are published for the first time. That also makes EXOTIQUE 6 the most comprehensive collection of new character art by up-and-coming artists.
Exclusive Multi-language Video Walkthrough
A specially-commissioned Camtasia video walkthrough by EXOTIQUE 6 artist Ruoxing Zhang is available in both English and Mandarin to all customers who purchase any edition of EXOTIQUE 6 from the Ballistic Publishing Store. The walkthrough provides a glimpse into Ruoxing Zhang's painting style and creative approach with her entry 'Chang_e'.
Pricing and Availability
EXOTIQUE 6 is available in two editions: Softcover (USD$59); and Special Edition (USD$115). More details about the books and availability can be found at the Ballistic Publishing website.
The EXOTIQUE 6 Special Edition release features a leather-bound cover, with glossy tip-on artwork, gold foil titles, and specially-printed full-color endpapers featuring the art of Drazenka Kimpel and Jia Tian Yu.
Publication Details

Soft Cover ISBN 978-1-921002-81-6
Special Edition ISBN 978-1-921002-80-9
Pages: 208 pages (Soft Cover and Hard Cover)
Dimensions: 220 x 297mm (9.7" x 11.7")
Editor/Publisher: Daniel Wade
Shipping: December 2010
Praise for THE EXOTIQUE series
"From rich portraits like Neville D'Souza's cover image Sweet as Candy, to visionary fantasy pieces, EXOTIQUE 5 is full of breathtaking art. A lot of thought's been put into the book's layout, sometimes pitting the might of one painting against another, then juxtaposing images that complement each other. Whatever the approach, the results are always transfixing."
EXOTIQUE 5 review, ImagineFX magazine
Other titles in the Ballistic Publishing catalog
Ballistic Publishing celebrates its eighth year creating the world's best digital art books, with the EXPOSÉ, EXOTIQUE, d'artiste, ESSENCE, and Art of the Game series to name a few. To see details of our more recent books like EXPOSÉ 8, The Art of God of War III, The Art of UNCHARTED 2: Among Thieves, and The Art of Massive Black, visit the Ballistic Publishing Press Room.
About The CGSociety and Ballistic Media
Ballistic Media operates two major divisions -- The CGSociety and Ballistic Publishing. The CGSociety is the world's largest society of professional digital artists and provider of forums, portfolios, training, job and event services for the digital arts industry. Ballistic Publishing is the leading, independent publisher of books for the digital arts industry. Dedicated to publications of the highest quality and celebrating the talents of digital artists worldwide, Ballistic has set the benchmark as a quality boutique publisher. Ballistic Media is based in Adelaide, South Australia, with offices in Melbourne (Victoria, Australia) and Tampa (Florida, USA).
Digital assets (covers, sample spreads, press releases) can be downloaded from the Ballistic Publishing Press Page.
###