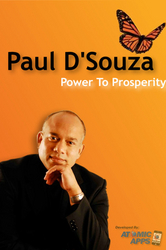 Loveland, OH (Vocus) November 10, 2010
The Market Has Changed - we know this. But the future belongs to those that change with these markets and conduct business differently. The question now is ... Have You? Virtually all research on the economy reveal that the majority of growth will come from the Small Business sector. It is the Small Business Owners and Entrepreneurs that will create jobs and create opportunity where there was none. The greatest innovations come from this period or cycle in the market place. Yet this huge demographic is lost to some extent - they miss out on a lot of the benefits and access to resources the larger enterprises have.
This new iPhone App speaks directly to the 29Million Small Business Owners in America and the millions of others throughout the English Speaking world. They now have a free resource to help them learn new strategies and tactics they can use in several areas of their business, from Business Strategy, to Marketing and Sales strategies to Personal Development and Leadership skills. Useful information they can use everyday to win more business.
To down load this iPhone App click here - http://itunes.apple.com/us/app/follow-paul/id401287618?mt=8 You can also go to the iTunes store and search for "Follow Paul" and look for and click on the Orange Butterfly icon.
Why this App? What has changed? In short, everything. Just 10 years ago, you could reach out to a prospect 4 or 5 times and get a response, now its 14 - 17 times before you get anywhere. Virtually all customers will conduct research on-line before they make a buying decision. Your competition is leveraging technology to get in front of your customers .... the list goes on. You have to be doing different things.
Training, Learning and Skill Development is key. When Small Business Owners were asked what they needed to turn their businesses around - more learning and training was right up there and in some cased came before the need for capital. Many things have changed today and they need answers. Many business practices that worked last year do not work today. This new iPhone App addresses these need and helps small business owners and sales professionals close this gap.
The iPhone App was made by an emerging company in Tampa FL http://www.atomicapps.com/. Atomic Apps is a Smartphone App Development & Consulting company based out of Tampa, Florida. With over a decade of combined Information Technology experience, Atomic Apps is able to offer a unique strategic advantage in any Smart Phone App development project.
The D'Souza Group helps companies increase sustainable revenue and profits. The consulting, training, and speaking engagements are always customized to meet their client's unique needs. They help you make the powerful changes needed to win in today's market place. Paul D'Souza, author of 'The Market Has Changed- Have you?' believes that Inspired People Make More Money and is committed to helping Small Business Owners and Entrepreneurs live prosperous lives.
###