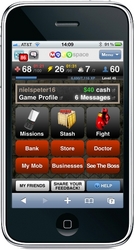 We are thrilled with the initial test of Street Wars, as it truly brings together the social, entertainment and monetization aspects of our business
Boston, MA (Vocus) November 10, 2010
This month MocoSpace, the largest entertainment destination on the mobile web, is reporting strong results for Street Wars, the first mobile browser-based social game on the MocoSpace Game Platform. In just over one month, Street Wars has achieved great popularity, and the game platform's early success will be strengthened with several more game titles coming by the end of the year. MocoSpace is currently on-boarding select third party game developers and will be fully opening up its game platform to all developers in the coming months.
MocoSpace is focused on smartphone browser-based gaming, setting it apart from many other mobile gaming companies who focus on downloadable mobile apps. By building games on the mobile browser, developers can reach more players' social graph and allow games to gain popularity on a wider range of mobile devices.
In Street Wars, players gain money, power and access through the successful completion of dangerous missions and head-to-head fights. As players gain power – and recruit other players to join their mob – they are rewarded with points to improve their health, stamina, energy and income. Street Wars also allows players to improve their game characters through spending Moco Gold, MocoSpace's virtual currency.
Key stats from Street Wars in October:
· Scale: Over half a million unique players
· Virtual currency adoption: Nearly 4% of players are Moco Gold users
· High engagement: 50% of active players play the game each day
· Strong monetization: MocoSpace is seeing ARPU over $13 among iPhone and Android players
"We are thrilled with the initial test of Street Wars, as it truly brings together the social, entertainment and monetization aspects of our business" said Justin Siegel, CEO of MocoSpace. "With our platform, partners can tap into our social graph, leverage our direct billing system and send notifications and invites through our API to a large, highly engaged mobile audience."
To explore a game development partnership, please contact MocoSpace at games@corp.mocospace.com
About MocoSpace
MocoSpace is the largest entertainment destination on the mobile web, with over 15 million registered users generating more than 3 billion pages per month. For a young, multicultural, on-the-go generation, MocoSpace is the mobile community of choice for making friends, having fun and staying connected. MocoSpace is free and available on any web-enabled mobile phone in the world. Launched in 2005, MocoSpace is based in Boston, MA and is backed by General Catalyst and Softbank Capital. For more information, visit http://www.jnjmobile.com
Follow MocoSpace on Twitter: http://www.twitter.com/mocospace
Contact:
Rachael Himsel
415.677.9125 x 257/ rachael(at)vscconsulting(dot)com
VSCPR for MocoSpace
###