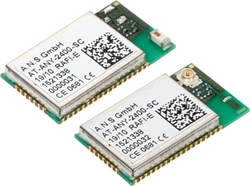 "Adaptive Network Solutions helps developers across the industries shorten their time-to-market by offering a wide range of RF modules, developer tools, software and professional services," said Magnus Pedersen, Atmel Corporation
(PRWEB) November 10, 2010
Adaptive Network Solutions, a leading system design house, announced today at the Electronica 2010 in Munich, Germany, its new @ANY2400SC IEEE 802.15.4/ZigBee RF module for 2.4 GHz ISM band. With an ultra-small footprint of just over 3 square centimeters, the new module offers a best-in-class combination of exceptional receiving sensitivity and an optimal output power level in a small form factor. Built on Atmel's latest single chip platform, the module comes in two modifications: @ANY2400SC-1 featuring integrated chip antenna and @ANY2400SC-2 with a U.FL connector.
"Our goal is to offer the ultimate flexibility for the developers," said Mr. Thomas Lerm, CEO of Adaptive Network Solutions GmbH. "In today's compact devices, printed circuit board real estate is at the premium, and our @ANY2400SC modules fit the smallest of spaces without sacrificing a bit of performance. The antenna options further extend the developer's capabilities. Finally, our modular software and professional services enable OEMs to drastically cut both development costs and time to market for their wireless products."
@ANY2400SC modules present a fully integrated standards-based solution that contains all the digital and analog circuitry required for tiny wireless devices and eliminates the need for in-house RF expertise. @ANY2400SC-1 module with an integrated chip antenna is ideal for limited space applications, while @ANY2400SC-2 with a built-in U.FL antenna connector enables rapid design-in, using a different external antenna for every application. Both @ANY2400SC modifications are designed to work with various wireless sensing and control applications, using IEEE 802.15.4-based standards, such as ZigBee® and 6LoWPAN. The 2.4 GHz RF modules are ideal for building and industrial automation, energy management, smart metering and other application areas, requiring high RF performance.
@ANY2400SC modules are built around Atmel's ATmega128RFA1. This IEEE 802.15.4-compliant single chip combines the industry-leading AVR microcontroller and best-in-class 2.4GHz RF transceiver, resulting in industry's highest RF performance for single-chip devices, with a link budget of 103.5dBm. @ANY2400SC modules are fully compatible with other @ANY RF modules for 2.4 GHz band, as well as other Atmel-based devices.
"Adaptive Network Solutions helps developers across the industries shorten their time-to-market by offering a wide range of RF modules, developer tools, software and professional services," said Magnus Pedersen, Product Marketing Director of MCU Wireless Solutions at Atmel Corporation. "Their latest @ANY2400SC IEEE802.15.4/ZigBee modules utilize Atmel's industry-best single-chip design, ATmega128RFA1. Its inherent characteristics make @ANY2400SC the most power-efficient ZigBee module in the market today by offering flexible antenna options for different applications without compromising performance."
Developers can maximize the inherent advantages of Atmel's hardware platform by tapping into a wide range of RF design and customization services now available at Adaptive Network Solutions. In addition, Adaptive Network Solutions provides Smart MAC Suite (SMS) networking software that allows easy control of @ANY platform's functionality via AT commands supporting all IEEE 802.15.4-based functions, as well as facilitates the addition of numerous custom features.
Pricing & Availability
@ANY2400SC-1 and @ANY2400SC-2 RF modules are available immediately in sample quantities. Please inquire at info@an-solutions.de. @ANY DESIGN development kits will be available in the first quarter of 2011. Each kit will contain three @ANY2400SC-based BRICK development boards, a USB dongle, a JTAG programming adaptor and a set of external antennas, as well as software and documentation CD-ROM. All products are precision manufactured in Germany. For more information on Adaptive Network Solutions 2.4 GHz products, please visit http://an-solutions.de/products/2_4_ghz.html.
About Adaptive Network Solutions (A.N. Solutions)
A.N. Solutions is a versatile system design house specializing in concept-to-market wireless networking solutions for energy management, building automation, and other application areas demanding intelligent wireless connectivity. A.N. Solutions help OEMs and system integrators to roll out new products on time and on budget with no in-house RF expertise by offering easy-to-use hardware and software components. Ultra-sensitive IEEE 802.15.4/ZigBee RF modules, embedded software and development tools for Sub-1-GHz and 2.4GHz license-free ISM bands enable quick and seamless technology implementation and customization. Headquartered in Dresden, Germany, the A.N. Solutions team boasts years of wireless experience, adhering to the spirit of innovation and "Made in Germany" quality. For more information, please visit http://www.an-solutions.de.
Adaptive Network Solutions GmbH
Tel.: +49 351 8134 228
Email: press(at)an-solutions(dot)de
###