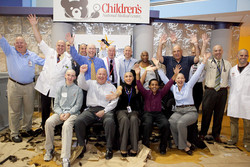 I am proud to support the dedicated doctors and staff members at Children's National
Washington, DC (Vocus) November 10, 2010
The 2nd Annual Be Brave and Shave, a Heroes Against Childhood Cancer fundraising initiative, held on Sunday and Monday, raised more than $180,000 to benefit the cancer programs at Children's National Medical Center.
On Monday, the Children's National chairman of the board, chief medical officer, and heads of cancer and surgery at Children's National, were joined by many other doctors, board members, and supporters to raise money to combat childhood cancer. Patient families were in attendance to watch as their favorite physicians shaved their heads.
At two separate events on Sunday, more than 100 hometown heroes from the Arlington and Montgomery County Police, Fire and Sheriff Departments shaved their heads. Doctors and nurses from Children's National Medical Center, including the Center for Cancer and Blood Disorders of Northern Virginia, joined in the demonstration of support for children fighting cancer, many of whom lose their hair as a result of their cancer treatment.
"I am proud to support the dedicated doctors and staff members at Children's National," said James W. Lintott, chairman of the board at Children's National. "Shaving my head doesn't compare to what the kids have to go through in their battle with cancer."
Max Coppes, MD, senior vice president of the Center for Cancer and Blood Disorders at Children's National, said, "We are incredibly grateful for this powerful demonstration of support. The community's generosity is allowing us to conduct the most visionary research and to provide the most compassionate care as we work to save and improve the lives of children with cancer."
"This year, we built upon past successes, adding a head shave in Montgomery County and continuing to expand our donor base and raise awareness throughout the region and the nation," said Colleen Avis, Chair of Be Brave and Shave. "Be Brave and Shave is a unique, volunteer-driven fundraiser that brings together our hometown heroes, doctors, patients and supporters for the common purpose of showing the world that bald is beautiful in an effort to raise money and awareness to fight childhood cancer."
Each year, the Division of Oncology at Children's National Medical Center treats approximately 225 children as new cancer patients. Patients receive comprehensive, state-of-the-art care and have access to the technical and clinical excellence that gives them their best opportunity for survival.
To date, Heroes Against Childhood Cancer events have raised more than $1.2 million for the Cancer Programs at Children's National.
***Photos Available Upon Request***
Contact:
Stacy Williams, 301-565-8523, stwillia (at) cnmc (dot) org
Amanda Keating, 202-441-5332, amanda (at) heroesagainstchildhoodcancer (dot) org
About Children's National Medical Center
Children's National Medical Center in Washington, DC, has been serving the nation's children since 1870. Home to Children's Research Institute and the Sheikh Zayed Institute for Pediatric Surgical Innovation, Children's National is consistently ranked among the top pediatric hospitals by U.S.News & World Report and the Leapfrog Group. With 283 beds, more than 1,330 nurses, 550 physicians, and seven regional outpatient centers, Children's National is the only exclusive provider of pediatric care in the Washington metropolitan area. Children's National has been recognized by the American Nurses Credentialing Center as a Magnet® designated hospital, the highest level of recognition for nursing excellence that a medical center can achieve. For more information, visit http://www.ChildrensNational.org, receive the latest news from the Children's National press room, or follow us Facebook and Twitter
###