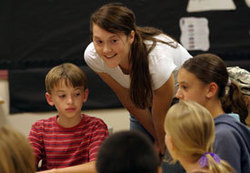 Redmond, OR (Vocus) November 11, 2010
Central Oregon students seeking to become a teacher through George Fox University's Master of Arts in Teaching (MAT) program are invited to supplement their degree by applying for the January start of the university's Part-Time MAT Plus program.
The MAT Plus program, a four-semester format that offers two additional endorsements to the MAT degree, is offered part time and full time. Although the application deadline for the part-time program in Redmond was Oct. 1, the university's admissions office is continuing to accept applications for admission. The full-time program is offered in Newberg and has an application deadline of Dec. 15.
The university offers a part-time MAT program in Redmond that begins classes in January. Classes meet one evening per week and approximately one Saturday per month at the university's Central Oregon location at 2248 S.E. College Loop, Building 1, in Redmond.
George Fox's Master of Arts in Teaching program offers initial licensure at all four levels of authorization – early childhood, elementary, middle school and secondary. MAT candidates earn two authorizations at adjacent levels and choose between early childhood/elementary, elementary/middle school or high school/middle level.
The MAT Plus ESOL degree combines the core MAT initial license degree with 11 semester credits of instruction in English for Speakers for Other Languages (ESOL), leading to the ESOL Specialist endorsement. The MAT Plus Reading Specialist degree, which combines the core MAT degree with 11 semester credits of instruction in reading, leads to the Reading Specialist endorsement.
Candidates entering the MAT program are expected to have developed breadth and depth of content knowledge by completing an appropriate bachelor's degree, providing the foundation for professional education courses and field experiences in schools.
For details on cost, the admissions process or program information, visit mat.georgefox.edu or contact Beth Molzahn, MAT admissions counselor, at 800-631-0921, ext. 2264.
George Fox University is ranked by Forbes as the top Christian college in the Pacific Northwest and among the top three Christian colleges in the country. George Fox is the only Christian university in the Pacific Northwest classified by U.S. News & World Report as a first tier national university. More than 3,400 students attend classes on the university's campus in Newberg, Ore., and at teaching centers in Portland, Salem, and Redmond, Ore., and Boise, Idaho. George Fox offers bachelor's degrees in more than 40 majors, degree-completion programs for working adults, five seminary degrees, and 11 master's and doctoral degrees.
Contact:
Beth Molzahn
Admissions, Master of Arts in Teaching
800-631-0921, ext. 2264
bmolzahn(at)georgefox(dot)edu
###