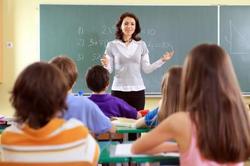 "A classroom lockdown is an emergency procedure where students are confined to their classrooms in response to certain kinds of threats," says More Prepared. "The specific actions taken depend on whether the threat is outside or inside the school."
Hawthorne, CA (PRWEB) November 13, 2010
On Wednesday, school officials in Broward County, Florida, initiated a county-wide classroom lockdown in response to what it called a "credible threat" to student safety. Fortunately, the threat, which arose when a woman called a local radio station and claimed that her husband wanted to go to a school and start shooting, never materialized. Still, it resulted in several anxious hours for teachers, students and parents.
More Prepared, a California-based specialist in emergency preparedness, suggests that student safety can be enhanced, and anxieties eased, by taking a few simple steps to prepare for a classroom lockdown event.
First, it is important to understand what a lockdown is and why it might be used. A lockdown is an emergency procedure where students are confined to their classrooms in response to certain kinds of threats. The potential school shooter, as in the Broward County case, is one example. Bomb threats or a police action in the school's neighborhood are others. The specific actions taken depend on whether the threat is outside or inside the school.
In the case of external threats, students are instructed to remain in their classrooms. Students outside the building are told to go indoors. External doors are locked to prevent unauthorized access. Hallways and restrooms are cleared.
Internal threats are obviously very serious. In such cases, students and staff are quickly routed to the nearest classroom or secure space. Those outside the school are instructed to remain outdoors. Classroom doors are locked, but external doors are left unlocked to permit access for emergency responders. Classroom lights are turned out and students are instructed to remain quiet and keep away from doors and windows.
In all cases, the lockdown remains in effect until authorities issue and all clear or evacuation instructions.
All schools should have a detailed lockdown plan and practice it regularly. Parents should be familiar with the plan and know how to contact the school in the event of an emergency. It is also important that each classroom be provided with a lockdown kit as an adjunct to its first aid and emergency survival supplies. A basic lockdown kit includes a portable toilet and other sanitation supplies for use by students while confined to the classroom.
More information on classroom lockdowns and other emergency issues is available at the More Prepared website, http://www.moreprepared.com.
More Prepared is located at 4857 W. 147th St. Suite C, Hawthorne, CA 90250. For more information, call 888.733.7245 or visit http://www.moreprepared.com.
# # #