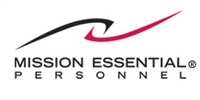 MEP has leveraged its success to become more than just a language company – we're a world-class provider of human-capital solutions, helping government and commercial clients achieve their missions at home and abroad
Chantilly, VA (Vocus) November 12, 2010
Mission Essential Personnel, LLC (MEP) today announced its Training and Technical services business unit expanded recently with two new contracts to bolster training programs at Joint Base McGuire-Dix-Lakehurst's Expeditionary Center in New Jersey. While MEP is best known as the leading provider of translators and interpreters to US forces in Afghanistan, these wins confirm the company's continued diversification into the technical and training field, as also demonstrated by the company's recent participation in Mass Atrocity Response Operations (MARO) tabletop exercises at Harvard University.
"MEP has leveraged its success to become more than just a language company – we're a world-class provider of human-capital solutions, helping government and commercial clients achieve their missions at home and abroad," said CEO Chris Taylor. "We've made a concerted effort in the last year to broaden our portfolio with a full suite of custom-tailored capabilities, and it's exciting to see the results when those capabilities are engaged."
The programs are:
Eagle Flag – Designed to develop, test, and rehearse Expeditionary Combat Support (ECS) capabilities, Eagle Flag provides rapid, tailored responses to a variety of universal situations. It's the largest cross-agency program of its kind, coordinating personnel in the Air Force, Army, Department of Homeland Security, and Department of State.
CAST – The mission of the Combat Airman Skills Training (CAST) course is to train selected Airmen and women in support of Contingency Operations or deployment to a hostile battlefield environment. MEP will add instructor positions in the Vehicle Service Instruction block to its current training team.
"MEP is honored to partner with the men and women of the US Armed Forces, whether on the battlefield, at forward-operating bases, or in the classroom," Taylor continued. "Our trainers dedicate their experience to ensure pre-deployment training exceeds all expectations and that each student leaves with the skills to perform in any theater of operation."
About MEP:
MEP is a global professional services company that provides human-capital solutions and program support to government and corporate clients. Currently, MEP is the US government's leading provider of translators, interpreters and cultural advisors, with more than 6,000 personnel in 13 countries across the Middle East, Africa, Asia and Europe. In addition to language services, MEP provides intelligence support, training and technical services to the US Department of Defense, intelligence agencies and international development organizations. Regardless of a mission's size or complexity, MEP finds professionals with the skills to support it.
###