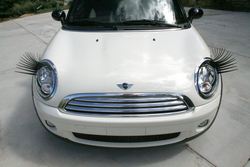 "CarLashes are the cutest things EVER! They make people SMILE. Thank You, Thank You for bringing one more positive creation to our world!"
Park City, UT (PRWEB) November 16, 2010
Couture fashion may dominate the runways of Paris and New York, but highways across the world are now home to the latest in auto fashion — eyelashes for your car.
This whimsical headlight jewelry, dubbed CarLashes, can easily adorn and dress-up the most economical to the most expensive of cars. At just under $25, it is the perfect gift for any woman who's looking to add a little glam (or just plain fun) to their girly ride.
The revolutionary peel-and-stick plastic eyelashes are available in two styles: "straight-across" for typical headlights and "flexible" for curved lights. And for those divas wanting to add some luxury to their flirty lash, CarLashes also makes Crystal Eyeliner – a strip of bling in clear or pink for less than $20.
CarLashes is the creative vision of cinematic visual effects specialist and inventor/artist Robert Small of Park City, Utah. Small and his wife, Dottie, own Turbo Style Products, which sells the eyelashes. The fanciful idea came to Small years ago when he thought about cartoons that depict cars with faces. Headlights had always looked like eyes to Small, so why not design lashes for them, he thought.
Fast forward to September 2010 when a clever story by CNN's Jeanne Moos shown the spotlight on Small's creation and suddenly Turbo Style Products was inundated with orders from around the world for the now must-have feminine car accessories.
News sites, blogs, Facebook and other social media sites in various languages have written about and posted photos of the lovely lashes. Many women comment about the adoration they receive just driving to the grocery store.
"Since adding the lashes and liner, I have had more people stop and admire my car. It's crazy. People hang out their windows while driving and smile and give me a big thumbs up!"
CarLashes aren't just for the style-conscience fashionista. They're also for the spirited gals who just want to have fun and make a few people smile along the way.
"These are the cutest things EVER!!!! They are the bomb. Thank You, Thank You, Thank You for bringing one more positive creation to our world!"
GIFTS
CarLashes is the perfect gift under $25 for any occasion from birthdays to stocking stuffers. And for less than $50, you get the entire bright-eyed look: lashes and liner.
INFORMATION:
Purchase Online: Carlashes.com
Phone: c. 435-640-3252 / o. 435-658-1402
Contact: Beth Moon ~ Director of Media Relations
Facebook: facebook.com/carlashes
*photos available upon request
###