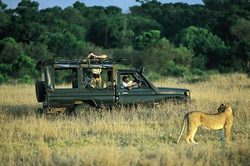 "The hotel would join a growing chain of selected mid market hotels managed by Cresta Hospitality and benefit from the operating economies and commitment to excellence demanded by the group," says Playland Ltd.
Orlando, FL (PRWEB) November 14, 2010
Capital Corp Merchant Banking (http://www.capitalcorpmerchantbanking.com ) is pleased to announce that it has signed on for a $15.4 M project with Zambian corporation Playland Limited to create the Cresta Mukuni Safari Lodge Victoria Falls.
The aim of the project is to build an internationally recognized 4-star Safari Lodge with modern facilities: amenities and conveniences will cater for incentive groups from Europe and America with facilities that can also be used for local and regional markets in the European off-season. Apart from hotel accommodations, the project will offer other timeshare facilities that will cater to both local and foreign clientele.
The business concept of the project is strong, given the significant gap in the market for Safari and wilderness type high-end hotels in the Victoria Falls area where only 70 hotel rooms exist on the Zimbabwean side, and with limited conference facilities.
In order to have a quick impact on the market and to enhance its position, Playland Limited has signed a management contract with Cresta Hospitality (http://www.ta-holdings.com/CrestaHospitality.aspx), one of the biggest hospitality groups in southern Africa managing and operating 13 properties in 3 countries (Zimbabwe, Botswana, and Nigeria), to manage its property. This will provide the development with the key personnel, marketing strategies, and implementation strategy needed to insure a smooth and efficient development.
Cresta Mukuni will be twinned with the famous Cresta Mowana Safari Lodge situated in the Botswana National Park, which has won major international awards (http://www.e-gnu.com/mowana_safari_lodge_botswana.html?gclid=CNby_fe8lKUCFUS5Kgod7nZdjQ).
About Capital Corp Merchant Banking: Capital Corp Merchant Banking offers quality Merchant Banking services for a variety of projects worlwide. Capital Corp Merchant Banking has developed close working relationships with groups of Professionals: Specialists in Finance, Commercial Risks Insurance and Re-Insurance, International Accounting Firms and Law Firms, and the largest Valuation Firm in the world. Capital Corp Merchant Banking is solution-oriented and known for being the most flexible Funding Source on the Market in creating handcrafted investment structures to meet the needs of the different constituent groups in each individual transaction. Capital Corp Merchant Banking offers many services: Project Financing, Consulting, Due Diligence, Evaluation of a Business, Negotiating Services, Acquisitions, Investment Approach, and Presentation Reports as well. For further information, please visit our website.
###