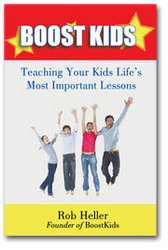 BoostKids: Teaching Your Kids Life's Most Important Lessons.
Plymouth Meeting, PA (Vocus) November 13, 2010
BoostKids, a nationally recognized program designed to increase the self confidence of children by teaching them people skills and developing their character, is pleased to introduce a new book by BoostKids founder, Rob Heller,"BoostKids: Teaching Your Kids Life's Most Important Lessons."
The book is an excellent resource for parents looking to help their children build self confidence. The book is based on the principles of the BoostKids program, which is an interactive CD-ROM-based training program that uses video lessons to teach children twenty-eight people skill and character building lessons.
By reading "BoostKids: Teaching Your Kids Life's Most Important Lessons," parents will learn:

How BoostKids is changing the lives of kids across the county.
Specific techniques that will help parents teach BoostKids lessons to their children.
Why the development of social skills and strong character may be more crucial for a child's development than academic success.
How technology is impacting the development of our children's social skills and character.
Heller's new book also discusses how he developed the BoostKids program after he was unable to find a program to help his then twelve year old son build true self confidence. Working with child psychologists, educators, and parents, Rob developed BoostKids, which has helped thousands of children across the country increase their self confidence.
The BoostKids program includes twenty-eight lessons. Some of the lessons include meeting and greeting, handling being teased, patience, and setting and achieving goals. A full list is available on the BoostKids website.
Rob Heller's book was selected by publisher iUniverse for the prestigious Rising Star Award, which showcases promising fiction and non-fiction authors tapped by the editors of iUniverse. This necessary manual for parents will teach specific techniques to use to boost their kids confidence.
BoostKids: Teaching Your Kids Life's Most Important Lessons is immediately available for purchase at http://www.boostkids.com/book
# # #