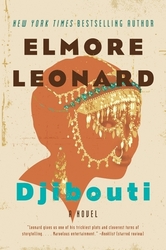 Los Angeles, CA (PRWEB) November 12, 2010
A new hiphop song by the Brooklyn combination of producer Rench and rapper Tomasia is inspired by Elmore Leonard's new novel, Djibouti.
Rench, a singer, songwriter, and producer with roots in honky-tonk, hip-hop, and trip-hop music., has a previous Elmore Leonard connection as the driving force behind, Gangstagrass. This group recorded the Emmy nominated title track, "Long Hard Times to Come, (featuring T.O.N.E.-Z), for Leonard's hit FX series, Justified.
Elmore Leonard said of Gangstagrass, "Rench and his friends have done nothing short of creating a new form of music. Gangstagrass takes two types of music that are opposites and mixes them together brilliantly in a way that is natural and very enjoyable."
Last spring, Rench was contacted by Elmore Leonard's researcher, Gregg Sutter with an unusual request. "I was knocked out by Rench's integration of bluegrass and hiphop on Justified," Sutter said, "So I asked him if he'd like to create a song about Elmore's new novel, Djibouti." He said yes."
Supplied with the galleys to Djibouti, Rench turned to Tomasia to write the lyrics. "I knew this was her type of material," Rench said, "but any topic she explores, she has a way of nailing." The result was a track called "Djibouti", a blend of the subject matter in the novel, which deals, in part, with Somali pirates who like to party in Djibouti city, with the actual events taking place in the Horn of Africa.
As Tomasia explains: "When I read Elmore Leonard's Djibouti I saw that the political situation which is the backdrop of the novel, Somali pirating, is complex and layered. In global poverty, there are profiteers at every level. An economic system that values money over human life sets the stage for this scenario, playing out all over the world as it becomes a wasteland. I turned on Rench's beat in four hours I wrote a song about it."
Elmore said, "It's great, it's terrific, the way Tomasia say, 'Djibouti,' The beat's the thing."

###