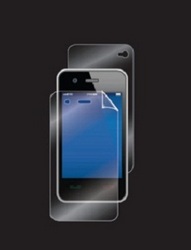 Invisible NASA Tech in your pocket
Huntington Station, NY (PRWEB) November 16, 2010
IPG is more than a screen protector and it is not a typical phone cover. IPG is the new solution for clear, protective, full-body films for personal electronics and hand-held devices, available worldwide. From now on, it is easy to protect the whole surface of a device with an IPG scratch-proof invisible shield.
IPG Guards' key features include:

The clearest and toughest aerospace grade film on the market
Virtually invisible
Scratch proof
Lifetime replacement warranty
Self healing technology
Fingerprint free
Ultra thin film
Ultimate protection without the use of a bulky case
Exceptionally clear and virtually indestructible, IPG is custom designed and precision cut. It comes with a Lifetime Replacement Guarantee, so if the film does become damaged in the line of duty, IPG will replace the guard for the life of the product. Best of all, once it's been affixed, you hardly even know it's there.
IPG's ultra-thin (0.02 mm) tough film covers the whole device; phones, iPods, e-books, digital cameras etc. IPG is made from a clear, thermoplastic urethane film, the toughest of its class. It has the ability to resist the highest level of abrasion, making it the ultimate protection for gadgets and devices. The film's "self healing" technology makes it immune to scratches, and virtually indestructible. Traditional cases can hide the device manufactures' original sleek designs. The extra bulk can also make it feel awkward and prevent it from connecting to docks properly. With Invisible Phone Guard, the user gets full protection, with the world's most durable transparent film which is originally designed for NASA and US Air Force.
For the latest IPG models starting from $12.99 and for more information please visit http://www.invisiblephoneguard.com
About IPG
IPG is a privately held company. All of IPG products are made in the USA. IPG's innovative products bring convenience to enjoy our prized possessions.
IPG will be displaying its whole product line at the CES 2011, Las Vegas Convention Center, iLounge Hall, Booth # 3527.
###