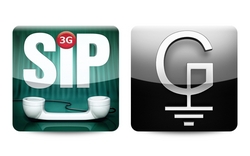 Get Acrobits Softphone for only $3.99 and Groundwire for only $4.99.
Prague, Czech Republic (PRWEB) November 16, 2010
Mobile software developer Acrobits turns two this month. As a leading developer of VoIP on the iPhone, they have consistently led the field in introducing advanced SIP features to the iPhone and integrating the best iOS features into their products. This dedication to innovation has brought their users the best VoIP experience on the iPhone and made Acrobits Softphone the leading SIP Client on the iPhone. To celebrate, both Acrobits Softphone and Groundwire are on sale for half off today and tomorrow only, November 16th and 17th. Get Acrobits Softphone for only $3.99 and Groundwire for only $4.99.
But that's not all. Visit http://www.acrobits.cz to see their new website. Streamlined for customer navigation, it also includes a new knowledgebase to provide customers the best support experience possible. And they've recently added a GoogleVoice interface to their iPhone SIP clients to simplify using GoogleVoice with your SIP Account. They'll also soon have their Android version of Acrobits Softphone available on the Android Market. Users interested in beta testing it should feel free to contact them at beta@acrobits.cz.
And their next update to their iPhone clients will include support for SRTP. Though both Acrobits Softphone and Groundwire support SIPS, this only encrypts the SIP traffic, not the audio. Users that desire the security that SRTP provides will now have that security provided by the leading developer of SIP clients on the App Store.
About Acrobits
Acrobits is a privately owned software development company with a focus on mobile software development. The company is based in Prague, Czech Republic and was established in November 2008. Three of its founders have been working as a team since 2003 and have developed several award-winning applications for a wide range of mobile devices. In 2008, they teamed up with a Swiss entrepreneur and pioneer of VoIP technology and together they founded Acrobits.
###