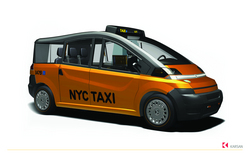 New York, NY (PRWEB) November 15, 2010
Mayor Michael R. Bloomberg named a design by the international car and truck manufacturer Karsan USA one of three finalists for New York City's Taxi of Tomorrow. Karsan's roomy, cutting-edge design, environmentally advanced, fully accessible vehicle promises to revolutionize the taxi passenger experience in New York City.
The Karsan design would allow New York City to be the world's first city with a fleet that would be 100% accessible and compliant with the historic Americans with Disabilities Act (ADA). The large passenger cabin features comfortable seating for up to five, as well as space for strollers, suitcases or shopping bags. The unique panoramic glass roof is perfectly suited to the vertical landscape of NYC, allowing passengers to view the city's skyscrapers as they drive through New York's streets.
One of the most distinctive advantages of the Karsan submission is that it is specifically designed and built just as a taxi, and does not need to be retrofitted from an exisiting van design. The environmentally friendly car is fully accessible and ADA-compliant without any need of retrofitting or additions. It has an automated ramp for wheelchairs on either side, specially-designed wide doors that open up to 90 degrees, and keyboard and Braille communication for the hearing and visually impaired. The design is flexible and will accommodate public input or any revisions of the Taxi and Limousine Commission.
"The Karsan taxi will once again make the New York taxi a world icon," said William Wachtel, President, Karsan USA. "Not since the great Checker cabs, which were designed precisely to provide the comfortable, roomy experience for taxi passengers, has there been a taxi purposely designed to meet the needs of New York City passengers and drivers. Since then, New York taxicabs have been adapted and retrofitted from regular passenger car production models, and as a result have cramped space with insufficient leg room and uncomfortable seating. By contrast, this new design is for a purpose-built taxi, a vehicle that will comfortably sit five passengers, and for the first time, be accessible to all New Yorkers and visitors. New York used to be known for its taxis; the Karsan design will reintroduce a superior taxi experience that will once again set the standard for the world."
"We applaud the Mayor's vision to modernize urban taxi travel," said Karsan Executive Director Jan Nahum. "We are honored to be a finalist, and we hope to be part of New York's future. New York's Taxi of Tomorrow project is unique. It represents the greatest opportunity to design a comfortable, modern, sustainable, accessible taxi that will become the model for taxi service around the world."
The Karsan taxi would be assembled in Turkey with a significant portion of the parts by value made in the United States. As part of its proposal, Karsan is planning to build a 40,000 square-foot repair, training and service facility in New York City, initially creating more than 100 jobs.
Highlights of the Karsan taxi design include:

Specifically designed as passenger vehicle for urban use
No retrofitting or adaptation of standard passenger cars or vans
Entire roof of the vehicle made of plexi-glass, allowing unobstructed passenger views of New York's skyscrapers
Flexible seating for up to five passengers, with comfortable, roomy seats
Additional cabin space for strollers, luggage or shopping bags
Purpose-build, accessible—fully 100% ADA-complaint
Illuminated wheelchair ramp on both sides of vehicle
Space in vehicle for wheelchair maneuverability
Specialized handrails and restraint systems
Wide doors open to 90 degrees
Keyboard/screen communications for the hearing impaired
Braille displays for the visually impaired
Space designed specifically for the comfort of guide dogs and other service animals
WiFi capabilities, Internet access
Flexibility for the most sustainable engine mode available
Ease of switching one engine to another:
o Operation with a gasoline engine
o OR a compressed natural gas (CNG) engine
o OR a gas-electric hybrid engine
o OR an all electric engine (within the product life cycle)
Karsan, founded in 1966, brings over 40 years of experience as an international multi-branded commercial vehicle producer, providing services to the world's leading brands such as Peugeot, Citroen, Renault and Hyundai.
The New York City Department of Transportation issued a request for proposal (RFP) for companies to submit plans for the Taxi of Tomorrow. The City is inviting public input on the website http://www.nyc.gov/html/media/totweb/taxioftomorrow_home.html and an announcement of the winning design is expected in 2011. The company that receives the bid will have exclusive selling rights to the New York City taxi market for a ten year period, an estimated 2,650 vehicles per year.
Contact:
Rubenstein Associates, Inc.
Iva Benson, ibenson(at)rubenstein(dot)com, 212-843-8271
###