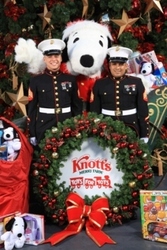 Buena Park, Calif. (Vocus) November 15, 2010
Knott's Berry Farm will look like Santa's Toy Shop this year as it stocks hundreds of toys for the U.S. Marine Corps Reserve Toys for Tots Drive. This year guests can simplify their holiday gift buying by purchasing a $15 gift from one of several merchandise locations in Knott's Marketplace and then bringing it to Knott's Main Gate for free admission. Those wishing to bring their own new, unwrapped gift valued at $15 or more, will be given a voucher to purchase a regular Knott's Merry Farm admission for only $15.
For those who wish to donate to Toys for Tots online, simply go to http://www.knotts.com and click on Santa's Toy bag and your donation will purchase a gift for the Toys for Tots Drive and give you a ticket to Knott's as a thank you.
The U.S. Marine Corps Reserve Toys for Tots Drive at Knott's runs Dec. 4-19, 2010 only. The collected toys will be distributed by U.S. Marine Corps Reserve personnel to disadvantaged children throughout Southern California. The annual program is part of a nationwide U.S. Marine Corps Toys for Tots program. Knott's Berry Farm is one of the largest collection sites for Toys for Tots in Southern California.
A visit to Knott's Merry Farm is a wonderful way to celebrate the holiday season with your family. The Park, which has been transformed into a spectacular winter wonderland, includes activities for the whole family including a colorful Christmas parade and a spectacular holiday ice show.
The "A Peanuts' Holiday Parade" is a Christmas celebration with seven elaborately themed floats featuring the Peanuts gang and accompanied by students from the Orange County Song and Dance Company. Children and adults alike will be able to get into the holiday spirit as they become part of a magical world of dancing snowmen, oversized toys and glittering Christmas trees.
Returning to Knott's 2,100-seat Charles M. Schulz Theatre is "It's Christmas, Snoopy!" This ice spectacular is hosted by the famous skating Beagle and features Knott's ensemble skaters, dazzling sets, colorful costumes and plenty of surprises! There is no better way to get into the holiday season than to enjoy the world's most famous beagle as he skates to your favorite holiday music in a production that is truly breathtaking.
Back for 2010's Merry Farm is Elf Mountain Christmas. The famous Timber Mountain Log Ride has once again been transformed into the North Pole where we can all get a glimpse of Santa and his elves getting ready for their busiest night of the year. Rich with lights, music and the merriest of times, this attraction will remain open until Jan. 2, 2011.
Knott's Merry Farm also offers guests the opportunity to get a little Christmas shopping done. Knott's 1880s Ghost Town becomes Knott's Christmas Crafts Village, and invites guests to explore one-of-a-kind treasures created by more than 100 artisans in a Victorian holiday wonderland. And don't miss live performances of Charles Dickens' "A Christmas Carol" and O'Henry's "A Gift of the Magi" in the Bird Cage Theatre.
The Toys for Tots campaign collected close to 57,000 toys at Knott's Berry Farm last year and hopes to exceed that number this December. Each year, the U.S. Marine Corps Reserve coordinates the distribution of the collected toys to disadvantaged children through local social service agencies.
For information on Knott's Merry Farm activities and show schedules, call (714) 220-5200 or click on http://www.knotts.com.
Contact: Michele Wischmeyer
or Jennifer Blazey
(714) 220-5130
###