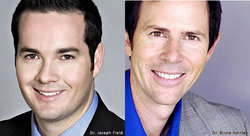 "We're very excited about what this partnership means for our patients," said Dr. Hartley. "This is a blending of our two expertise areas."
Los Altos, CA (PRWEB) November 17, 2010
Dr. Bruce Hartley, a widely respected cosmetic dentist, and Dr. Joseph Field, an extensively trained general dentist, formed a partnership this year, bringing their two specialties together under one roof to offer their patients a unique combination of their advanced skills.
"We're very excited about what this partnership means for our patients," said Dr. Hartley. "This is a blending of our two expertise areas."
The two dentists have been working together for three years, but only this year did Dr. Field join Dr. Hartley as a full partner at the Peninsula Center of Cosmetic Dentistry in Los Altos, CA. Dr. Hartley said it was the best decision he could have made to improve patients' experience: "Before our partnership, I had to bring in other specialists or refer patients out—now we can offer everything in one place," he explained. "Patients appreciate the familiarity that this offers, as well as the expedience."
"In other practices, patients can be referred out to as many as three other dentists, which leads to a lack of continuity in their treatment, and often a breakdown in communication between the dentists treating them," Dr. Field agreed. "Our unique environment prevents this confusion, which benefits our patients."
Both dentists bring a sophisticated mastery of their particular area of focus to the table. Dr. Field specializes in dental implants, Invisalign, and general dentistry. He is also one of only a handful of dentists in California who is licensed to practice IV sedation, which allows for a deeper sedation than oral or inhalation methods of sedation; for patients who have anxiety surrounding dentistry, this can be crucial to getting their dental work done.
With Dr. Field taking care of all general dentistry work, Dr. Hartley is able to continue practicing cosmetic dentistry full-time. "Because Dr. Field performs all of the general dentistry, I'm able to do cosmetic dentistry exclusively; I'm one of the few dentists in the country who has the opportunity to focus entirely on cosmetic dental work in this way," said Dr. Hartley. "As a result, I've seen and successfully treated every imaginable cosmetic issue—not just once, but many times over."
The alliance that Dr. Hartley and Dr. Field have formed offers patients an incredible overall improvement in services: increased familiarity, faster access to treatment, greater range of knowledge, and superior experience in their individual fields of expertise.
"The fact that we offer so many services under one roof is hugely beneficial to our patients," said Dr. Field. "We're there from the beginning to the end of their treatment, which means that they receive optimal care every step of the way."
For more information about Dr. Hartley, Dr. Field, and the Peninsula Center of Dentistry, visit http://www.pccd.net or call (650) 948-5524.
###