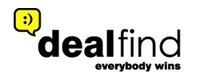 Toronto, ON (PRWEB) November 16, 2010
The unique group buying website, Dealfind (http://www.dealfind.com) closed its biggest deal ever for a restaurant in Canada's group buying history, on November 9th, 2010, with scrumptious crustaceans at The Lobster Trap. Within a 24-hour time period, 6,900 Torontonians purchased vouchers for fresh lobster, seafood and drinks at The Lobster Trap Restaurant after paying only $39 for an $80 meal, saving them over 50 per cent. The total revenue earned was $269,100.00 within 24 hours and the total revenue saved amongst consumers was $282,900.00.
Founded by Otto Brtnik, The Lobster Trap has been a beloved mom-and-pop shop located on Avenue Road for over 38 years. Online marketing provides a new outreach strategy for this company, as group buying has instantly revitalized its customer base.
With the power of collective-buying and a one-of-a-kind "ambassador program," Dealfind introduces Canadian consumers to a whole new way of shopping, already saving them over $15 million. Dealfind has expanded its service and is now offering daily deals in cities from Halifax to Vancouver.
With the simple click of a mouse and word of mouth, Dealfind brings consumers the best places to dine, shop and experience at a fraction of the cost. The service works by negotiating deals with businesses looking to attract new customers. For example, $75 worth of food and drinks at a restaurant can be purchased for only $30. Once people go on Dealfind, they can subscribe for free to receive daily emails alerting them about that day's special deal, which are sometimes chopped down to 90 per cent off.
Additionally, Dealfind has uniquely pioneered an "ambassador program" where its users can earn money. This works when users refer friends, colleagues and family members to purchase a deal. Through this program, Dealfind encourages users to share the deal with others via communications vessels such as Facebook and Twitter, utilizing social media tools at a whole other level. Whenever a purchase results from a referral, Dealfind will pay the ambassador a generous commission.
Dealfind features a "Deal" each day. Users then have 24 hours to buy it. Once the time runs out on the deal of the day, buyers of the voucher can start redeeming them at the chosen business. These businesses vary from restaurant and tourist attractions, to spa getaways and car detailing. The deals have no expiry dates, so the buyers are free to use them at anytime.
As an example, through Dealfind's unique social distribution method, it was able to sell 3,835 spa packages, 295 tailor made shirts, 1,391 sushi restaurant certificates, 1,501 home cleaning packages, 1,554 fitness packages, 1,138 laser hair removal packages and 1334 car detailing packages. Each of these sales were done in a 24 hour period.
Once a deal is closed, Dealfind immediately sends the business operator a cut of the sales proceeds, along with new customers who may have otherwise not known about that business, if it weren't for the deal. By guaranteeing a large number of new customers, Dealfind believes that it is creating a win-win for both the consumer and the business.
Dealfind came together in 2009, an offshoot of MenuPalace.com, a website containing restaurant and hospitality information. Its mission is to bring the best deals directly to consumers every day.
Dealfind prides itself in featuring products and services that are worth buying. It believes anyone can find a great deal, but not everyone can find a great deal on something they really want. Because Dealfind features unbeatable deals only from reputable businesses, they are confident that its users will feel comfortable purchasing vouchers at such mind-blowing discounts.
Available for Interviews:
Gary Lipovetsky
For more information, please visit:
http://www.dealfind.com
See recent deals: http://www.dealfind.com/recent-deals.php
For media inquiries please contact:
Pennant Media Group
Kevin Pennant kp(at)pennantmediagroup(dot)com
Toronto 416.596.2978
Los Angeles 818.748.7517
# # #