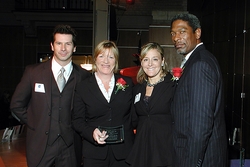 We are so proud of Susan, who has long been a powerful advocate for pro bono in New Jersey. McCarter & English supports the participation of all of our attorneys in our firm-wide Pro Bono Program; it has always been and continues to be a priority."
Newark, NJ (PRWEB) November 17, 2010 —
Law firm McCarter & English LLP announced today that partner Susan A. Feeney was honored as a "Champion of Change" by Volunteer Lawyers for Justice. McCarter & English was also recognized. VLJ provides pro bono services to low-income individuals throughout New Jersey to ensure equal access to the legal system. The award was presented at VLJ's "Arts & Eats for Justice Gala" on November 9. The Gala was held in celebration of the organization's 10th anniversary and highlighted key individuals and organizations that have supported its mission throughout the decade.
Susan Feeney, one of the founders of VLJ, is also a current VLJ board member and the New Jersey State Bar Association's president-elect. "I am honored that VLJ has chosen to recognize me with this award," said Ms. Feeney. "McCarter has fully supported my work with VLJ and, as a result, we have fostered a special connection with the organization. The firm provides space to VLJ in our office and has supported its mission with innumerable hours of pro bono service over the past ten years. The firm strives to stay involved with our local communities and will continue that tradition in collaboration with VLJ, which we wish many more years of success."
Stephen M. Vajtay, Jr., McCarter's incoming firm-wide managing partner, praised Susan Feeney's contributions to VLJ and expressed continued support for the organization's efforts, stating: "We are so proud of Susan, who has long been a powerful advocate for pro bono in New Jersey. McCarter & English supports the participation of all of our attorneys in our firm-wide Pro Bono Program; it has always been and continues to be a priority."
The Gala was held at the Montclair Art Museum in Montclair, N.J. McCarter was a lead sponsor of the event. Other honorees include: Mayor of Newark Cory A. Booker, Assemblywoman Bonnie Watson Coleman, Hon. Dickinson R. Debevoise, Hon. Paula T. Dow, the Newark Municipal Prosecutor's Office; and the Education Law Center, among others.
Since its founding, VLJ has developed from a grass roots effort of 30 volunteer attorneys in Essex County to a state-wide not-for-profit with five staff attorneys and more than 1,500 volunteer attorneys aiding thousands of clients each year. Event proceeds are earmarked for VLJ's programs, which include free legal counsel and advice, educational seminars on various legal matters, and direct representation for at-risk individuals facing critical civil legal issues.
About McCarter & English
McCarter & English, LLP, established more than 160 years ago, represents Fortune 500 and middle-market companies in their national, regional and local litigation and on important transactions. Its 400 attorneys are based in offices in Boston, Hartford, New York, Newark, Philadelphia, Stamford and Wilmington. http://www.mccarter.com
###