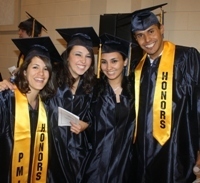 Tucson mayor Robert Walkup will serve as the ceremony's keynote speaker and inspire the guests and graduates.
Tucson, AZ (PRWEB) November 16, 2010
Nearly 2,000 students, family and friends will gather together at the Christ Community Church on Friday, Nov. 19 to participate in Pima Medical Institute's Tucson campus' graduation ceremony. More than 250 students will be obtaining certificates and degrees from one of the 10 career training programs offered at the Tucson campus. They will celebrate the completion of their education as they look forward to transitioning into the workforce.
A first for the campus, the inaugural Nursing and Occupational Therapy Assistant programs will be honoring their combined 38 graduates.
Tucson mayor Robert Walkup will serve as the ceremony's keynote speaker and inspire the guests and graduates. In addition, Charles Church, a Nursing program graduate, will address the crowd, sharing a personal poem about his experiences at Pima Medical Institute and his first day at his externship.
Pima Medical Institute is one of the leading medical career training schools in the western United States and helps prepare students for positions in a variety of disciplines within the health care field. Pima Medical Institute has 13 campuses in seven states, including three locations in Arizona.
WHERE:
Christ Community Church
7801 E. Kenyon Drive
Tucson, Arizona 85710
(520) 296-8501
WHEN:
Friday, November 19, 2010 6:30 p.m.
MEDIA OPPS:
Below is a sample of interview opportunities and visuals available:

Speak with graduates and their families about their inspirational stories of sacrifice and celebration, including Charles Church.
Meet with campus director Dale Berg to discover how Pima Medical Institute prepares graduates for success in the workplace, utilizing classroom instruction and hands-on training in medical offices throughout Tucson.
Photograph students celebrating their accomplishments with friends and family.
Capture Mayor Walkup inspiring a new generation of health care professionals as they evolve from students to contributing members of the workforce.
RSVP:
To RSVP for the event and to set up interviews, please contact Beth Glick at
bglick(at)pmi(dot)edu or 480-610-6068.
About Pima Medical Institute
Established in Tucson in 1972, Pima Medical Institute (PMI) is one of the premier medical career colleges in the western United States. PMI is a private, family-owned, accredited school dedicated to providing students with a well-rounded education that offers theoretical classroom studies coupled with real world training on-site at medical facilities. Pima offers a wide range of certificate and associate's degree programs, such as medical assistant, radiography,veterinary assistant and pharmacy technician.
PMI operates a total of 13 campuses in seven western states, with locations in Albuquerque; Tucson and Mesa, Ariz.; Denver and Colorado Springs, Colo.; Seattle and Renton, Wash.; Las Vegas; Houston; and Chula Vista, Calif. For more information and a complete list of programs offered at each of our campuses, visit http://pmi.edu or call 1-888-442-5998.
# # #